Tethering
Belts—

Not for Use as

Fall-Arrest

Equipment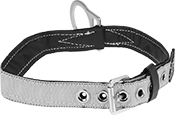 With One Ring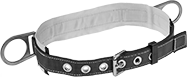 With Two Rings
D-rings on the hip provide a stable working position and keep workers away from areas of potential free fall when attached to a lanyard.
Capacity,




lbs.

Material
Construction
Number
of


D-Rings

D-Ring


Material
Buckle
Material
Choose
a Size


(Waist)

Each
310
Polyester
Webbing
1
Steel
Steel
00000000
000000
310
Polyester
Webbing
2
Steel
Steel
0000000
00000
Tethering
Lanyards—

Not for Use as

Fall-Arrest

Equipment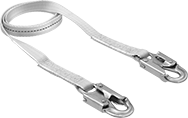 Keep workers away from areas of potential free fall by restricting travel to within a certain distance from an anchor point. A belt and lanyard must be used together.
Pole Climbing Equipment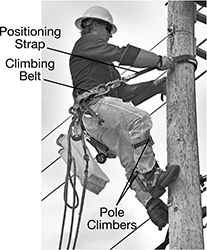 Scale wooden poles to perform inspections and maintenance.
Climbing belts work in conjunction with positioning straps to provide a leverage point for climbing. Attach the positioning strap and your fall-arrest lanyard to the metal D-rings on the belt. Belts are fixed, so they do not allow side-to-side movement of the D-rings. Belts also hold your tools while climbing. They have a glove-bag ring, a tape holder, a two-way knife snap, four suspender rings, and four tool loops. To find your trade size, measure from one hip bone around the back to the other hip bone, then add 2". For example, if the length you measure is 20", then your trade size is 22D.
Positioning straps wrap around the pole to provide support while at height, freeing both hands for work. Connect them to the D-rings on your climbing belt with the locking snap hooks. They adjust up to 2 feet in length.
Pole climbers have cushioned leather pads for comfort, wide stirrups for solid foot support, and spikes that penetrate even hard, salt-treated poles for secure climbing. Adjust the length in 1/4" increments by removing and repositioning the screws in the leg irons. To determine your length, measure from your instep to 1" below your knee.
Replacement climber pads cannot be sold to Canada due to import regulations.
Note: Pole climbing equipment is not a substitute for fall-arrest equipment. Always use pole climbing equipment in conjunction with a fall-arrest harness, lanyard, and anchor point.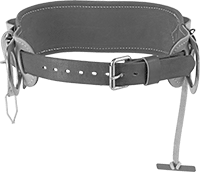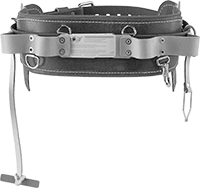 Climbing
Belt
Trade Size
Material
Specifications
Met
Features
Each
22D
Nylon Fabric
ASTM F887, CSA Z259.1, OSHA Compliant 29 CFR 1910.269, OSHA Compliant 29 CFR 1926.959
Tool Holder
0000000
0000000
23D
Nylon Fabric
ASTM F887, CSA Z259.1, OSHA Compliant 29 CFR 1910.269, OSHA Compliant 29 CFR 1926.959
Tool Holder
0000000
000000
24D
Nylon Fabric
ASTM F887, CSA Z259.1, OSHA Compliant 29 CFR 1910.269, OSHA Compliant 29 CFR 1926.959
Tool Holder
0000000
000000
26D
Nylon Fabric
ASTM F887, CSA Z259.1, OSHA Compliant 29 CFR 1910.269, OSHA Compliant 29 CFR 1926.959
Tool Holder
0000000
000000