Nonsparking Torque Wrenches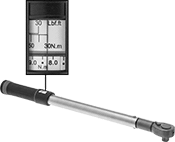 Made of beryllium copper, these wrenches satisfy OSHA requirements that specify nonsparking tools for locations where flammable vapors and combustible residues are present. Set the desired torque and the wrench indicates when it's reached with an audible click. To relieve pressure on the spring and maintain calibration, set torque to the lowest reading on the scale when not in use.
Note: Accuracy ratings apply to the entire torque range.
Warning: Do not use these tools in direct contact with acetylene.
Square
Drive
Size
Torque
Range
Graduations
Clockwise
Counterclockwise
Overall


Lg.

Material
Grip
Material
Specifications
Met
Each

1/2

"
16 to 150 Nm
22 to 110 ft.-lbs.
0.1 ft.-lbs.
0.1 Nm
±4%
±4%
20

1/2

"
Beryllium Copper
Plastic
BAM Certified
0000000
000000000