Industrial
Communication-Standard

Cable

Double Shielded
Use For:




Flexible:

Data,

Interference Shielding
Continuous

Flex:

Data,

Interference

Shielding,

Automation,

Continuous Motion

Insulation:

See Table
Connect devices such as sensors, programmable logic controllers, and actuators to an automated network. Choose the communication standard that matches your existing network.
Flexible cable bends easily, but is not meant to be in constant motion. Use continuous-flex cable in automated applications that require continuous motion, such as robotics.
Choose cable with PVC plastic outer insulation for general purpose indoor applications. Its protective layer resists abrasion, though it contains halogen. It's also less flexible than cable with TPE rubber insulation. Cable with TPE rubber outer insulation has a halogen-free protective layer that is more flexible and resists abrasion better than other materials. It also stands up to extreme temperatures and chemicals, making it good for use in harsh outdoor environments.
Double shielded cable has a layer of braid and foil shielding for better protection against signal interference than foil alone. Use it in environments with high signal distortion, such as near transformers, generators, and heavy duty motors.
Flame rated cable meets requirements for preventing the spread of flames based on a timed test. FT4 cable is mounted to a vertical tray during testing. VW-1 cable is suspended vertically during testing.
Communication
Standard
Transmission
Speed
Wire


Ga.




(No. of Wires)

Temp.




Range,




°F

OD
Material
Color
Specifications
Met

Length,




ft.

1-99

100-Up

Flexible

Double-Shielded

Solid Wire

Profibus
12 Mbps
22 (2)
-20° to 165°
0.32"
PVC Plastic
Purple
Flame Rated FT4
000000
00000
00000

Continuous Flex

Double-Shielded

Stranded Wire

Profibus
12 Mbps
24 (2)
-30° to 155°
0.33"
TPE Rubber
Purple
Flame Rated VW-1
000000
0000
0000
Profibus
12 Mbps
24 (2)
45° to 155°
0.33"
PVC Plastic
Purple
Flame Rated VW-1
0000000
0000
0000
Profibus Cords
Often used in assembly line networks and Fieldbus connections, these cords have B-coded M12 connections. The ends are threaded to withstand the vibration and shaking of an automated assembly line. Shielded with both braid and foil, these cords block interference from nearby devices, maintaining their signal integrity. PVC insulation protects these cords and resists abrasion, though it contains halogen. When mated or capped, these cords are IP67 rated, so they withstand dust and temporary submersion.
The socket end has an extra hole on the face that is not wired.
Add caps to protect connectors and maintain their IP ratings when not in use.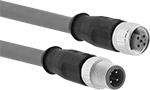 Lg.,




ft.

Number
of
Poles
Number
of
Keyways
Transmission


Speed,


kbps
Wire


Ga.




(No. of Wires)

Cord
OD
Specifications
Met
Shield
Type
Temperature


Range,




°F

Environmental
Rating
Cord
Insulation
Material
Color
Each

B-Coded

M12 Plug ×

B-Coded

M12 Socket

6

1/2

4
1
20
22 (2)
0.31"
UL Listed

Braid, Foil
-20° to 175°
IP67

PVC Plastic
Purple
000000
000000
16

1/2

4
1
20
22 (2)
0.31"
UL Listed

Braid, Foil
-20° to 175°
IP67

PVC Plastic
Purple
000000
00000