Propane Tank Refill Indicator Gauges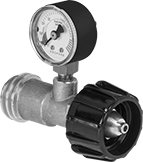 Know at a glance if your propane gas supply is running low. Gauge works with tanks manufactured after 1995.
Internal Outlet
Connection

External Outlet
Connection

Thread
Size

Thread
Type
Gender
For Valve Type
CGA
Number

Gender
Thread
Size
Thread
Type
Gender
Each
1

5/16

"-5
Acme
Female
POL/Acme (Type 1)
CGA 510

Female
1

5/16

"-5
Acme
Male
0000000
000000
Propane Detectors

An audible alarm and warning light alert you to the presence of propane. This detector has a relay for connection to auxiliary alarm systems. A programmable timer allows you to set whether the relay alarm is triggered immediately, or after 4 or 8 minutes of continuous gas exposure. The reset button suspends the alarm and restarts the cycle for 5 to 8 minutes in case of false alarm.
Trigger


Point,

ppm
Volume
Temperature


Range,

° F

Ht.

Wd.

Dp.

Voltage
Cord


Lg.,

ft.

Fasteners
Included
Mounting
Hole

Dia.

Each
4,200
80 dB @ 10 ft.
-20° to 120°
6

3/4

"
3

1/4

"
1

3/4

"
120V AC
6
No

3/16

"
0000000
0000000
Portable
Multi-Gas

Detectors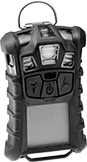 When this detector senses high levels of combustible and toxic gases, it alerts you with an audible alarm, warning light, and vibrating alarm. You can adjust the alarm trigger points to suit your environment. There is also a motion sensor that sounds an alarm if the user becomes disabled.
A calibration check must be performed on the detector before each use to verify that it is working properly. The check requires a regulator and cylinder (sold separately).
Note: LEL is lower explosive limit.
Detects


(Measuring Range)

Volume
Temperature


Range,

°F

Batteries
Included
Environmental
Rating
Each
Acetone, Butane, Hydrogen, Methane, Pentane, Propane, Toluene (0-100% LEL); Oxygen (0-30% Vol.); Carbon Monoxide (0-1,999 ppm); Hydrogen Sulfide (0-200 ppm)
95 dB @ 1 ft.
-40° to 140°
Yes
NEC Class I Divisions 1, 2 Groups A, B, C, D
NEC Class II Divisions 1, 2 Groups E, F, G
NEC Class III Divisions 1, 2
NEC Zone 0 Groups IIC, IIB, IIA
IP68

00000000
0000000