Connectors for Lift Truck Propane Tanks
Valve

Valve Connector

Hose Connector
Use a valve, valve connector, and hose connector (each sold separately) to create a complete connection between a propane tank and a lift truck's fuel hose.
Valve permits withdrawal of liquid or vapor. It has an inlet for the propane tank and an outlet for the valve connector.
Valve connector has one end that attaches to the valve and one end that attaches to the hose connector.
Hose connector creates a quick disconnect. One end attaches to the valve connector and the other to the lift-truck fuel hose.
For technical drawings and 3-D models, click on a part number.
Component
Pipe
Size

Connection
Type
Gender
Pipe
Size

Connection
Type
Gender
Material
Each
Valve

3/4

NPT
Male

3/8

NPT
Male
Brass
00000000
000000
Valve Connector

3/8

NPT
Female
1

1/4

Acme
Male
Brass
00000000
00000
Hose Connector
1

1/4

Acme
Female

1/4

NPT
Female
Brass
00000000
00000
Valves for Propane Tanks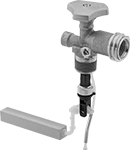 Valves work with standard propane tanks (like those on a gas grill). Do not use them with lift-truck propane tanks. POL/Acme (Type 1) valve has an internal POL connection, an external Acme connection that can be hand tightened, and an overfill prevention device.
Internal Outlet
Connection

External Outlet
Connection

Steel
Aluminum
Dip
Tube


Lg.

Pipe
Size

Thread
Type
Gender
Valve
Type
CGA
Number

Gender
Thread
Size
Thread
Type
Gender
Specifications
Met
Each
20
10
4"

3/4

NPT

Male
POL/Acme (Type 1)
CGA 510

Female
1

5/16

"-5
Acme

Male
NFPA 58
00000000
000000
30
20
4

3/4

"

3/4

NPT

Male
POL/Acme (Type 1)
CGA 510

Female
1

5/16

"-5
Acme

Male
NFPA 58
00000000
00000
40
__
6

1/2

"

3/4

NPT

Male
POL/Acme (Type 1)
CGA 510

Female
1

5/16

"-5
Acme

Male
NFPA 58
00000000
00000
100
100
11

1/2

"

3/4

NPT

Male
POL
CGA 510

Female
__
__
__
NFPA 58
00000000
00000