About Actuated
On/Off

Valves
Motor-Driven

Flow-Adjustment

Valves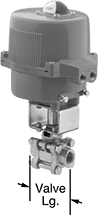 Assembled View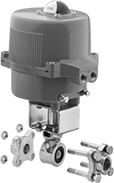 Exploded View
Valve

Type:

Ball

For Use

With:

Water,

Oil,

Air,

Argon,

Helium,

Krypton,

Neon,

Xenon
Seal

Material:

Fluoroelastomer

Rubber/PTFE

Plastic
Specifications

Met:

CSA

Certified,

UL Listed
Also known as proportional V-ball valves, these have a motor that adjusts and regulates flow in applications with higher flow rates and pressures than solenoid valves. As you increase the intensity of the electrical signal, the motor opens the valve, moving a ball with a V-cut opening that proportionately allows more flow as the valve opens. They're often integrated into PLC systems for automatic control over the valve position based on system conditions. Valves can accept both 4-20 mA current and 0-10 DC voltage. All are normally open unless actuated. They don't require a minimum pressure drop between the inlet and outlet for operation. All are full port, so they do not restrict flow.
The three-piece bolted body comes apart for access to internal components without unthreading pipe connections and removing the valve from your line. It is 316 stainless steel for excellent corrosion resistance. The actuator is secured to the valve body with a bracket for easy disassembly, maintenance, and repair. A visual flow indicator on the top of the actuator shows whether the valve is open or closed. Two single pole, double throw (SPDT) auxiliary switches allow you to connect these valves to temperature-monitoring equipment, programmable logic controllers, or conveyor sirens. The internal heater automatically turns on when the valve is actuated to prevent motor damage caused by condensation buildup. A manual override allows you to operate the valve during power outages.
Flow coefficient (Cv) is the amount of water (in gallons per minute) at 60° F that will flow through a fully open valve with a difference of 1 psi between the inlet and the outlet.
For technical drawings and 3-D models, click on a part number.
Pipe
Size

Gender
Thread
Type

Max.


Pressure
Pressure
Drop

Min.

Pressure
Drop
Required

Temp.




Range,




°F

Actuation
Time
Current
Voltage
Voltage
Range
Valve


Lg.

Ht.

Lg.

Environmental
Rating
Each

316 Stainless Steel Body with Screw Terminals

Normally

Open—

100V AC to 240V AC

1

Female
NPT

1,000 psi @ 100° F
Zero Pressure Drop
None
0° to 400°
8 sec.
4mA-20mA
0V DC-10V DC
100V AC to 240V AC
3

5/8

"
10

3/4

"
7

3/8

"
NEMA 4X

0000000
000000000
1

1/2

Female
NPT

1,000 psi @ 100° F
Zero Pressure Drop
None
0° to 400°
9 sec.
4mA-20mA
0V DC-10V DC
100V AC to 240V AC
4

9/16

"
12

9/16

"
7

3/4

"
NEMA 4X

0000000
00000000
2

Female
NPT

1,000 psi @ 100° F
Zero Pressure Drop
None
0° to 400°
9 sec.
4mA-20mA
0V DC-10V DC
100V AC to 240V AC
5

3/8

"
12

15/16

"
7

3/4

"
NEMA 4X

0000000
00000000
3

Female
NPT

350 psi @ 100° F
Zero Pressure Drop
None
0° to 400°
27 sec.
4mA-20mA
0V DC-10V DC
100V AC to 240V AC
7

1/16

"
15

1/2

"
10

1/2

"
NEMA 4X

0000000
00000000