Protective Clothing Tape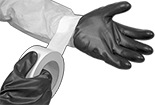 Patch rips and seal gloves, boots, and respirators to clothing with this chemical-resistant tape.
Material

Wd.

Lg.,




ft.

Color

O'all




Thick.

Roll


Dia.

Each
Polyolefin Plastic
2"
180
Yellow
0.0125"
6

3/4

"
000000
000000

Wrap fingers to protect against cuts and abrasions without limiting dexterity. This tape is flexible and water resistant. It adheres to itself and will not stick to skin, hair, or clothing.
Cotton/latex blend tape has an open-mesh design that allows the skin to breathe.
Vinyl tape is a good choice when latex allergies are a concern.
Cotton/Latex Fabric Blend