Lifting Levers for Dollies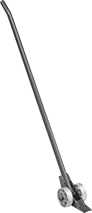 A

B
Also known as pry bars or Johnson bars, these provide the leverage you need to lift a large load onto a dolly. They are often used in pairs to lift each end of a load so a dolly can be slid underneath.
Style B have a step bar on the back that makes it easier to push the load plate under the load. It has grooves on the plate to grip the load.
Rubber wheels are quiet and protect your floors.
Style

O'all




Cap.,




lbs.

Handle


Lg.,




ft.

Wd.

Lg.

Color
Type
Configuration

Dia.

Type
Features
Each
Each

Steel Handle and Painted Steel Load Plate

Steel Wheels

A
2,400
6
3

1/4

"
7

3/4

"
Blue
Wedge
Two Axle-Mounted Wheels
6"
Solid
__
0000000
0000000
0000000
000000

Steel Handle and

Powder-Coated

Steel Load Plate

Polyurethane Rubber Wheels

B
5,000
6
6"
3

1/2

"
Blue
Tapered
Two Axle-Mounted Wheels
5"
Tread on Core
Step Bar
0000000
000000
000000
00

These dollies provide the leverage you need to move file cabinets, drums, and crates. Slide the tapered end under the edge of a load and step down on the other end to raise the load. The axle-mounted wheels under the tapered end balance the load and prevent it from tipping. The swivel casters mounted at the step-down end provide easy turning. Dollies are plastic coated for a nonskid, nonmarring contact surface. Their rubber wheels absorb shock, are quiet, and roll over smooth or rough surfaces.

O'all




Cap.,




lbs.

Lg.

Wd.

Ht.

Wheel
Configuration
Brake
Type
Caster
Mount
Type

Dia.

Material
Type
Features
Each

Steel

Plastic-Coated

Platform—

Flush

600
32"
15"
3

1/2

"
Two Swivel Casters and Two Axle-Mounted Wheels
None
Replaceable
2

1/2

", 3"
Rubber
Solid
Tapered Edge
0000000
0000000
600
32"
18"
3

1/2

"
Two Swivel Casters and Two Axle-Mounted Wheels
None
Replaceable
2

1/2

", 3"
Rubber
Solid
Tapered Edge
0000000
000000
Dia.

Wd.

Mount


Ht.

Cap.

per


Caster,

lbs.

Wheel/Tread


Material
Frame
Material
Caster
Type
Each
2

1/2

"
1

1/8

"
3

3/8

"
200
Rubber
Steel
Swivel
0000000
000000