Corrosion-Resistant

3000 Series Aluminum Sheets and Bars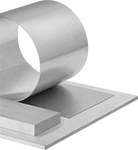 3000 series aluminum stands up to outdoor use, as well as exposure to chemicals. It offers a good combination of strength, formability, and weldability. It's often used for storage tanks, heat exchangers, garage doors, and general sheet metal work.
PTFE-coated foil has a green PTFE coating on one side, which is slippery and allows it to be used as a release liner in manufacturing processes.
For technical drawings and 3-D models, click on a part number.