Pulley Hoists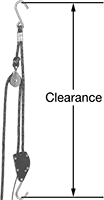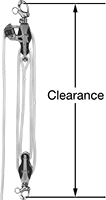 With Cleat Brake
These hoists come with fibrous rope that is lighter in weight and easier to handle than chain.
Mechanical brake automatically holds your load in place when you stop pulling the rope.
Cleat brake locks by pulling the rope through the cleat to hold your load in place.
Stainless steel and plastic hoists are corrosion resistant.
Warning: Never use to lift people or items over people.
tons

lbs.

Lift


Lg.,

ft.

Pulling Effort
@ Capacity
Clearance
Mount
Type
Hook
Opening

Wd.

For Shackle
Pin

Dia.

Inside


Lg.

Inside


Wd.

Rope


Dia.

Each

Steel with Mechanical Brake

1/8

250
10
125 lbs.
12"
Hook
1

1/4

"
__
__
__

3/8

"
0000000
000000

Stainless Steel and Plastic with Cleat Brake

1/4

660
5
165 lbs.
9"
Shackle
__

3/16

"

13/16

"

9/16

"

1/4

"
00000000
000000

1/4

870
8
200 lbs.
12"
Hook

5/8

"
__
__
__

5/16

"
00000000
000000

1/2

1,220
9
300 lbs.
14"
Hook

5/8

"
__
__
__

3/8

"
00000000
000000