Sanitary Electric Drum Pumps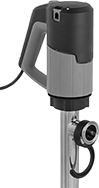 Polypropylene Plastic Housing
Commonly used in food, beverage, pharmaceutical, and cosmetic processing, these pumps are designed for sanitary environments. The discharge connection can be easily disassembled for cleaning. Pumps do not include a drum connector.
Pumps with a 47" intake tube can be used with large totes and tanks.
Pumps that are 3-A certified meet sanitary design standards.
Flow


Rate,


gpm
Discharge


Pressure,


psi
For
Container


Size,

gal.

Max.




Viscosity,


cP

Min.

Max.

Horsepower

Current,


A
For Drum
Opening


Size,

mm
Tube
OD
Tube


Lg.

Tube
Connection
Type
For
Tube
OD
Thermal
Protection
Specifications
Met
Each

120V

AC,

Single

Phase—

Plug

Polypropylene Plastic Housing

58
17
55
800
35°
245°
1.07 hp
7.5
43
1

11/16

"
39"
Quick Clamp
1

1/2

"
With Thermal Overload Protection
3-A Certified 02-11

0000000
000000000
58
17
55
800
35°
245°
1.07 hp
7.5
43
1

11/16

"
47"
Quick Clamp
1

1/2

"
With Thermal Overload Protection
3-A Certified 02-11

0000000
00000000