How to

Determine Feet of Head
About
Sump,

Water-Removal,

Condensate,

and Submersible Pumps
Condensate Pumps with Tank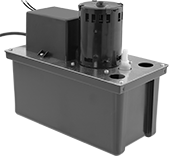 E
Equipped with a built-in container for condensate, these pumps work alongside your system to remove condensate from air conditioners, refrigerators, dehumidifiers, and other equipment. They are not submersible. A safety switch turns off your equipment in case of pump failure. Pumps turn on and off automatically.
Hardwire pumps must be wired to a power source.
Style E pumps handle heavy condensate accumulation.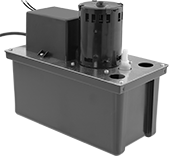 E
Style
Electrical
Connection
Type
Tank


Capacity,




gal.

@ 1




Ft.

of
Head

@ 5




Ft.

of
Head

@ 10




Ft.

of
Head

Max.




Ft.

of


Head,

ft.

Max.




Pressure,


psi
Turn
On
Turn
Off

Temp.




Range,




°F

Horsepower

Current,


A
Tube
Connection
Type
For
Tube
ID

Ht.

Wd.

Dp.

Each

120V

AC,

Single

Phase—

With Thermal Overload Protection

E
Plug
1
4.5
4.1
3.5
24
10
3

1/2

"
2"
35° to 120°

1/18

hp
2.5
Barbed

3/8

"
10

5/8

"
6"
12"
00000000
0000000

240V

AC,

Single

Phase—

With Thermal Overload Protection

E
Hardwire
1
4.5
4.1
3.5
24
10
3

1/2

"
2"
35° to 120°

1/18

hp
1.2
Barbed

3/8

"
10

1/2

"
6"
12"
00000000
000000