About
Sump,

Water-Removal,

Condensate,

and Submersible Pumps
Mobile
Gasoline-Powered

Sewage

Water-Removal

Pumps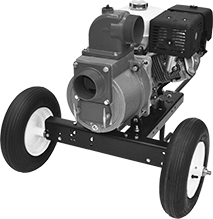 Wheel these pumps to remote areas with no power. They can handle sewage water with thick sludge, silt, and debris up to 2" in diameter. Pumps are self-priming, which means they create a suction force to draw liquid upward and fill the pump chamber. Mount up to 20 feet above your liquid source. All have a pull-start engine. They are not submersible. These pumps cannot be sold to Canada due to import regulations.
Pump with a tank capacity of 1.6 gallons includes an electric starter that operates on a 12-volt battery (sold separately). It cannot be sold outside the United States because of energy efficiency requirements.
Note: Pumps must be filled with liquid before use. They need a constant flow of liquid and cannot run dry.
@ 30




Ft.

of
Head

@ 60




Ft.

of
Head

@ 90




Ft.

of
Head

@ 100




Ft.

of
Head

Max.




Ft.

of


Head,

ft.

Max.


Solids


Dia.

Removes
Water
Down

To,

ft.

Temp.




Range,




°F

Horsepower
Pipe
Size

Gender
Pipe
Size

Gender

Ht.

Wd.

Lg.

Cannot
Be
Sold To
Each
530
335
110
20
103
2"
20
40° to 180°
13 hp
4

Female
4

Female
31"
38"
45"
Outside United States
00000000
000000000
460
275
75
__
100
2"
20
40° to 180°
13 hp
4

Male
4

Male
37"
38"
45"
Canada
00000000
00000000