Air Compressors

with DC Motor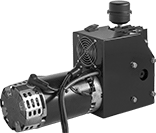 Compressor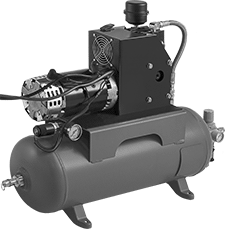 Compressor with Tank
Get compressed air from a DC power source—these compressors can run on a 12-volt vehicle battery (not included) for use on trucks and heavy equipment, or a DC generator. Use them to inflate tires, clean filters, and operate light-duty tools, such as nailers, hammers, and small impact wrenches. For best results with a vehicle battery, use a deep-cycle, large-cell battery rated for continuous use.
Compressors with tank are mounted on a 10-gallon storage tank to handle more demanding applications, such as grinders, saws, and spray guns.
Optional mounting brackets allow you to mount a compressor to a vehicle chassis. Connector assemblies come with a three-foot hose and a connector that can be fixed to a panel or frame for operating compressors installed in difficult-to-reach locations, such as under a vehicle.
Max.




Pressure,

psi

Max.

Flow
Rate @ psi
hp
Full Load


Current,

A

Vol.,


dBA
Pipe
Size

Thread
Type
Lubricant
Required

Lg.

Wd.

Ht.

Each

Compressor

12V DC

200
7.9 cfm @ 200
8 cfm @ 100
9 cfm @ 75
2

1/5

180
83

3/8

NPT

Yes
21"
7"
11"
0000000
000000000

Compressor with

10-gal.

Tank

12V DC

200
7.9 cfm @ 200
8 cfm @ 100
9 cfm @ 75
2

1/5

180
83

3/8

NPT

Yes
40"
10"
24"
0000000
00000000