Push Button Safety Covers
Lock out the on/off or emergency-stop buttons on machinery to prevent accidental or unauthorized startups, such as during maintenance. Install these covers over the buttons and use a padlock to temporarily deny access to them. The locked covers let workers know the equipment is off for safety.
To comply with OSHA 29 CFR 1910.147 lockout requirements for maintaining machinery, you must cut off the electricity at the circuit in addition to disabling the push button.
Removable covers twist on and off a mounted base that fits around a button. The included labels help you identify the buttons.
Hinged covers have a door that you can flip open for access to the button when the lockout is complete. These covers fit 22 mm buttons; snap off the tabs around the mounting hole to fit 30 mm buttons.
Often used with emergency-stop buttons, crossbar covers have a bar that locks a button in the off position.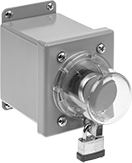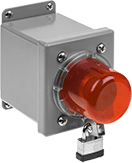 Replacement
Mounting
Bases

For Panel
Cutout


Dia.

Dia.

Dp.

For

Max.




No.

of
Padlocks
For

Max.


Padlock
Shackle

Dia.

Label
Included
Includes
Specifications
Met
Choose
a
Color
Each
Each

Plastic

16 mm (

5/8

")
2

1/2

"
1

3/4

"
1

5/16

"
Yes
Adhesive Backing for Mounting Base
OSHA Compliant 29 CFR 1910.147
0000000
000000
0000000
00000
16 mm (

5/8

")
2

1/2

"
3"
1

5/16

"
Yes
Adhesive Backing for Mounting Base
OSHA Compliant 29 CFR 1910.147
0000000
00000
0000000
0000
22 mm (

7/8

")
2

1/2

"
1

3/4

"
1

5/16

"
Yes
Adhesive Backing for Mounting Base
OSHA Compliant 29 CFR 1910.147
0000000
00000
0000000
0000
30 mm (1

3/16

")
1

7/8

"
2"
1

5/16

"
Yes
Adhesive Backing for Mounting Base
OSHA Compliant 29 CFR 1910.147
0000000
00000
0000000
0000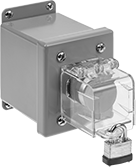 Hinged
For Panel
Cutout


Dia.

Wd.

Ht.

Dp.

For

Max.




No.

of
Padlocks
For

Max.


Padlock
Shackle

Dia.

Specifications
Met
Color
Each

Plastic

22 mm, 30 mm (

7/8

", 1

3/16

")
1

3/4

"
1

3/4

"
1

7/8

"
1

5/16

"
OSHA Compliant 29 CFR 1910.147
Clear
0000000
000000