How to

Identify and Measure Fittings
Pipe size is an industry designation, not the actual size. View information about how to measure threaded and unthreaded pipe and pipe fittings.
Thick-Wall

Plastic Pipe Fittings for Water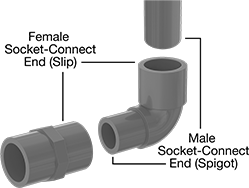 Connect these fittings to Schedule 80 pipe–they have thicker, stronger walls than standard-wall fittings so they can handle heavy duty industrial plumbing and water supply applications, such as water processing, waste water treatment, and irrigation. Fittings are plastic for good corrosion resistance. They meet ASTM specifications and testing requirements for material quality.
Fittings for drinking water meet NSF/ANSI Standard 61.
Attach socket-connect ends to unthreaded pipe or another socket-connect fitting with a PVC primer and cement (also known as solvent weld).
To prevent leaks in threaded connections, apply a sealant to the male threads. For plastic threads, apply a non-hardening, plastic-compatible sealant. Tape or sealants with PTFE are not recommended for plastic-to-plastic connections. For metal threads, use PTFE tape. When making a threaded connection be careful not to overtighten the threads. To prevent cracks and leaks, finger tighten the fitting, then wrench-tighten one to two turns.
Fittings that meet ASME B1.20.1 adhere to specifications for thread dimensions.
Note: For fittings that are not rated for pressure, you can use the pressure rating of the plastic pipe as a reference. Threaded fittings are limited to 50% of the rated pressure of the pipe.
Warning: Never use plastic pipe fittings and pipe with compressed air or gas.
For technical drawings and 3-D models, click on a part number.