Direct-Mount

Strip Brushes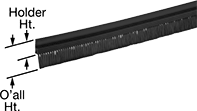 A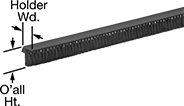 B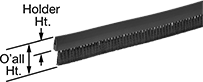 C
To simplify installation, bristles come stapled into a holder. Use brushes to clean conveyor belts as well as to contain dust, sprayed liquids, heat, and chips. The larger the bristle diameter, the stiffer the bristles.
Bolt-on holders can be drilled for mounting. Push-on holders have a top channel that grips the mounting surface.
Nylon bristles are abrasion resistant. Horsehair bristles are good for picking up dust and fine powders in finishing and cleaning applications.
Flexible holders can be cut to size with a utility knife. Rigid holders can be cut to size with a hacksaw.
For technical drawings and 3-D models, click on a part number.
O'all




Ht.

Dia.

Color

Wd.

Ht.

Color
For

Max.


Edge

Thick.

Mounting
Flange

Wd.

Mounting
Flange


Ht.

Mounting
Flange


Thick.

Max.




Temp.,




°F

Each

Bolt On

Nylon Plastic Bristles with Flexible PVC Plastic Holder

A
2"
0.008"
Black

5/16

"
1"
Black
__
__

5/8

"

1/16

"
150°
000000
000000
A
3"
0.012"
Black

5/16

"
1"
Black
__
__

5/8

"

1/16

"
150°
000000
00000
A
4"
0.020"
Black

5/16

"
1"
Black
__
__

5/8

"

1/16

"
150°
000000
00000
B
1

7/16

"
0.008"
Black
1"

7/16

"
Black
__

13/16

"
__

1/16

"
150°
0000000
00000
B
2

7/16

"
0.012"
Black
1"

7/16

"
Black
__

13/16

"
__

1/16

"
150°
0000000
00000
B
3

7/16

"
0.020"
Black
1"

7/16

"
Black
__

13/16

"
__

1/16

"
150°
0000000
00000

Nylon Plastic Bristles with Rigid PVC Plastic Holder

A
3"
0.008"
Black

9/16

"
2"
Gray
__
__
1

7/16

"

1/8

"
150°
0000000
00000
A
4"
0.012"
Black

9/16

"
2"
Gray
__
__
1

7/16

"

1/8

"
150°
0000000
00000
A
5"
0.020"
Black

9/16

"
2"
Gray
__
__
1

7/16

"

1/8

"
150°
0000000
00000
B
1

9/16

"
0.008"
Black
2"

9/16

"
Gray
__
1

7/16

"
__

1/8

"
150°
0000000
00000
B
2

9/16

"
0.012"
Black
2"

9/16

"
Gray
__
1

7/16

"
__

1/8

"
150°
0000000
00000
B
3

9/16

"
0.020"
Black
2"

9/16

"
Gray
__
1

7/16

"
__

1/8

"
150°
0000000
00000

Horsehair Bristles with Rigid PVC Plastic Holder

A
3"
0.008"
Black

9/16

"
2"
Gray
__
__
1

7/16

"

1/8

"
300°
0000000
00000
A
4"
0.008"
Black

9/16

"
2"
Gray
__
__
1

7/16

"

1/8

"
300°
0000000
00000
A
5"
0.008"
Black

9/16

"
2"
Gray
__
__
1

7/16

"

1/8

"
300°
0000000
000000
B
1

9/16

"
0.008"
Black
2"

9/16

"
Gray
__
1

7/16

"
__

1/8

"
300°
0000000
00000
B
2

9/16

"
0.008"
Black
2"

9/16

"
Gray
__
1

7/16

"
__

1/8

"
300°
0000000
00000
B
3

9/16

"
0.008"
Black
2"

9/16

"
Gray
__
1

7/16

"
__

1/8

"
300°
0000000
000000

Push On

Nylon Plastic Bristles with Flexible PVC Plastic Holder

C
1

7/8

"
0.008"
Black

3/8

"

7/8

"
Black

1/16

"
__

1/2

"
__
150°
000000
00000
C
2

7/8

"
0.012"
Black

3/8

"

7/8

"
Black

1/16

"
__

1/2

"
__
150°
000000
00000
C
3

7/8

"
0.020"
Black

3/8

"

7/8

"
Black

1/16

"
__

1/2

"
__
150°
000000
00000

Bolt On

Nylon Plastic Bristles with Flexible PVC Plastic Holder

A
2"
0.008"
Black

5/16

"
1"
Black
__
__

5/8

"

1/16

"
150°
0000000
00000
A
3"
0.012"
Black

5/16

"
1"
Black
__
__

5/8

"

1/16

"
150°
0000000
000000
A
4"
0.020"
Black

5/16

"
1"
Black
__
__

5/8

"

1/16

"
150°
0000000
000000
B
1

7/16

"
0.008"
Black
1"

7/16

"
Black
__

13/16

"
__

1/16

"
150°
0000000
000000
B
2

7/16

"
0.012"
Black
1"

7/16

"
Black
__

13/16

"
__

1/16

"
150°
0000000
000000
B
3

7/16

"
0.020"
Black
1"

7/16

"
Black
__

13/16

"
__

1/16

"
150°
0000000
000000

Nylon Plastic Bristles with Rigid PVC Plastic Holder

A
3"
0.008"
Black

9/16

"
2"
Gray
__
__
1

7/16

"

1/8

"
150°
0000000
000000
A
4"
0.012"
Black

9/16

"
2"
Gray
__
__
1

7/16

"

1/8

"
150°
0000000
000000
A
5"
0.020"
Black

9/16

"
2"
Gray
__
__
1

7/16

"

1/8

"
150°
0000000
000000
B
1

9/16

"
0.008"
Black
2"

9/16

"
Gray
__
1

7/16

"
__

1/8

"
150°
0000000
000000
B
2

9/16

"
0.012"
Black
2"

9/16

"
Gray
__
1

7/16

"
__

1/8

"
150°
0000000
000000
B
3

9/16

"
0.020"
Black
2"

9/16

"
Gray
__
1

7/16

"
__

1/8

"
150°
0000000
000000

Horsehair Bristles with Rigid PVC Plastic Holder

A
3"
0.008"
Black

9/16

"
2"
Gray
__
__
1

7/16

"

1/8

"
300°
0000000
000000
A
4"
0.008"
Black

9/16

"
2"
Gray
__
__
1

7/16

"

1/8

"
300°
0000000
000000
A
5"
0.008"
Black

9/16

"
2"
Gray
__
__
1

7/16

"

1/8

"
300°
0000000
000000
B
1

9/16

"
0.008"
Black
2"

9/16

"
Gray
__
1

7/16

"
__

1/8

"
300°
0000000
000000
B
2

9/16

"
0.008"
Black
2"

9/16

"
Gray
__
1

7/16

"
__

1/8

"
300°
0000000
000000
B
3

9/16

"
0.008"
Black
2"

9/16

"
Gray
__
1

7/16

"
__

1/8

"
300°
0000000
000000

Push On

Nylon Plastic Bristles with Flexible PVC Plastic Holder

C
1

7/8

"
0.008"
Black

3/8

"

7/8

"
Black

1/16

"
__

1/2

"
__
150°
000000
000000
C
2

7/8

"
0.012"
Black

3/8

"

7/8

"
Black

1/16

"
__

1/2

"
__
150°
000000
000000
C
3

7/8

"
0.020"
Black

3/8

"

7/8

"
Black

1/16

"
__

1/2

"
__
150°
000000
000000