These float valves have a temperature range of 35° to 110° F. Use them to control water levels in processing tanks and cooling towers.
Valves with extended threads can be installed through a tank wall.
Valves with a discharge outlet release contents into your tank; the outlet is unthreaded.
For technical drawings and 3-D models, click on a part number.
With 318 Stainless Steel Float Rod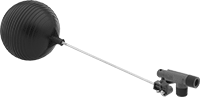 With 318 Stainless Steel Float Rod

With 318 Stainless Steel Float Rod
Pipe
Size

Thread
Type
Gender
Pipe
Size

Thread
Type
Gender
Flow
Rate

Max.




Pressure,


psi
Float


Dia.

Lg.

Thread
Size

Thread
Type
For
Container
Type
Float
Material
Seal
Material

Temp.




Range,




°F

Each

Elbow Valve

Body—

For Use With Water

3/4

NPT

Male

3/4

NPT

Male
15 gpm @ 50 psi
100
6"
12"
1/4"-20

UNC

Open Tank
PVC Plastic
Santoprene Rubber
35° to 110°
0000000
000000

3/4

NPT

Male

3/4

NPT

Male
32 gpm @ 50 psi
100
6"
12"
1/4"-20

UNC

Open Tank
PVC Plastic
Santoprene Rubber
35° to 110°
0000000
00000
With 318 Stainless Steel Float Rod and Extended Threads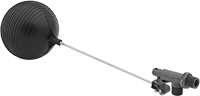 With 318 Stainless Steel Float Rod And Extended Threads
Pipe
Size

Thread
Type
Gender
Pipe
Size

Thread
Type
Gender
Flow
Rate

Max.




Pressure,


psi
Float


Dia.

Lg.

Thread
Size

Thread
Type
For
Container
Type
Float
Material
Seal
Material

Temp.




Range,




°F

Each

Elbow Valve

Body—

For Use With Water

3/4

NPT

Male

3/4

NPT

Male
15 gpm @ 50 psi
100
6"
12"
1/4"-20

UNC

Open Tank
PVC Plastic
Santoprene Rubber
35° to 110°
0000000
000000

3/4

NPT

Male

3/4

NPT

Male
32 gpm @ 50 psi
100
6"
12"
1/4"-20

UNC

Open Tank
PVC Plastic
Santoprene Rubber
35° to 110°
0000000
00000
With Polypropylene Plastic Float Rod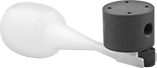 With Polypropylene Plastic Float Rod
Pipe
Size

Thread
Type
Gender
Discharge
Hole


Dia.

Flow
Rate

Max.




Pressure,


psi

Dia.

Rod


Lg.

For
Container
Type
Float
Material
Seal
Material

Temp.




Range,




°F

Each

Straight Valve

Body—

For Use With Water

1/4

NPT

Female

1/4

"
3 gpm @ 40 psi
65
4

1/2

"
8

1/8

"
Open Tank
Polypropylene Plastic
Fluoroelastomer Rubber
35° to 110°
0000000
0000000

1/2

NPT

Female

1/2

"
3 gpm @ 40 psi
65
4

1/2

"
8

1/8

"
Open Tank
Polypropylene Plastic
Fluoroelastomer Rubber
35° to 110°
0000000
000000

3/4

NPT

Female

3/4

"
7 gpm @ 40 psi
65
4

3/4

"
10

1/4

"
Open Tank
Polypropylene Plastic
Fluoroelastomer Rubber
35° to 110°
0000000
000000
1

NPT

Female
1"
12.5 gpm @ 40 psi
65
4

3/4

"
10

1/4

"
Open Tank
Polypropylene Plastic
Fluoroelastomer Rubber
35° to 110°
0000000
000000