About Selecting Thermal Insulation
Impact-Resistant

Low-Temperature


Rigid PVC Foam Insulation Sheets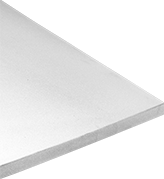 Temperature

Range:

-325° to 160° F

Heat Flow

Rate:

0.

22

Btu @

75° F

Density:

See table

Color:

Beige
Made of rugged PVC foam, these rigid sheets absorb impact and restrict the absorption of water, air, and gas. Use in applications with operating temperatures below 32° F.
Stiff PVC Foam Cores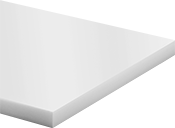 Plain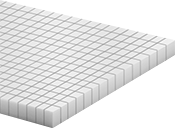 Scored
Color:

See table
Maximum

Temperature:

170° F

Tensile

Strength:

See table

For Use

Outdoors:

Yes
Add stiffness to composite sandwiches without adding a lot of weight. These cores are lighter in weight than balsa wood and aluminum honeycomb cores, but not as strong. Their cross-linked foam polymers, however, make them stronger and more durable than PET foam cores. All of these cores are moisture resistant and offer good sound insulation. Use them in composite layups, structural panels, partitions, and industrial tanks.
Scored cores have cuts in a grid pattern that make them easier to bend and form into complex shapes than plain cores.
Thickness
Thickness
Tolerance
Tensile


Strength,

psi
Tensile
Strength
Rating
Color
Each

Plain

3/8

"
-0.02" to 0.02"
370
Excellent
Green
0000000
0000000

1/2

"
-0.02" to 0.02"
370
Excellent
Green
0000000
000000

5/8

"
-0.02" to 0.02"
370
Excellent
Green
0000000
000000

3/4

"
-0.02" to 0.02"
370
Excellent
Green
0000000
000000
1"
-0.02" to 0.02"
370
Excellent
Green
0000000
000000
1

1/4

"
-0.02" to 0.02"
370
Excellent
Green
0000000
000000
1

1/2

"
-0.02" to 0.02"
370
Excellent
Green
0000000
000000
1

3/4

"
-0.02" to 0.02"
370
Excellent
Green
0000000
000000
2"
-0.02" to 0.02"
370
Excellent
Green
0000000
000000

3/8

"
-0.02" to 0.02"
300
Excellent
Yellow
0000000
000000

1/2

"
-0.02" to 0.02"
300
Excellent
Yellow
0000000
000000

5/8

"
-0.02" to 0.02"
300
Excellent
Yellow
0000000
000000

3/4

"
-0.02" to 0.02"
300
Excellent
Yellow
0000000
000000
1"
-0.02" to 0.02"
300
Excellent
Yellow
0000000
000000
1

1/4

"
-0.02" to 0.02"
300
Excellent
Yellow
0000000
000000
1

1/2

"
-0.02" to 0.02"
300
Excellent
Yellow
0000000
000000
1

3/4

"
-0.02" to 0.02"
300
Excellent
Yellow
0000000
000000
2"
-0.02" to 0.02"
300
Excellent
Yellow
0000000
000000

Scored

3/8

"
-0.02" to 0.02"
370
Excellent
Green
0000000
00000

1/2

"
-0.02" to 0.02"
370
Excellent
Green
0000000
000000

5/8

"
-0.02" to 0.02"
370
Excellent
Green
0000000
000000

3/4

"
-0.02" to 0.02"
370
Excellent
Green
0000000
000000
1"
-0.02" to 0.02"
370
Excellent
Green
0000000
000000
1

1/4

"
-0.02" to 0.02"
370
Excellent
Green
0000000
000000
1

1/2

"
-0.02" to 0.02"
370
Excellent
Green
0000000
000000
1

3/4

"
-0.02" to 0.02"
370
Excellent
Green
0000000
000000
2"
-0.02" to 0.02"
370
Excellent
Green
0000000
000000

3/8

"
-0.02" to 0.02"
300
Excellent
Yellow
0000000
000000

1/2

"
-0.02" to 0.02"
300
Excellent
Yellow
0000000
000000

5/8

"
-0.02" to 0.02"
300
Excellent
Yellow
0000000
000000

3/4

"
-0.02" to 0.02"
300
Excellent
Yellow
0000000
000000
1"
-0.02" to 0.02"
300
Excellent
Yellow
0000000
000000
1

1/4

"
-0.02" to 0.02"
300
Excellent
Yellow
0000000
000000
1

1/2

"
-0.02" to 0.02"
300
Excellent
Yellow
0000000
000000
1

3/4

"
-0.02" to 0.02"
300
Excellent
Yellow
0000000
000000
2"
-0.02" to 0.02"
300
Excellent
Yellow
0000000
000000