About Structural Adhesives
Pipe Cement for Plastic Pipe
Create strong, leakproof joints between unthreaded pipe and fittings. Cleaner and primer (sold separately) are recommended to prepare pipe for adhesion.
Cement for CPVC plastic and for PVC plastic meets NSF/ANSI 61 safety standards for use on drinking water systems. It is also suitable for drain, waste, and vent pipes.
Cement for ABS, PVC, and CPVC plastic works on most plastic pipe, conduit, water lines, and drain, waste, and vent systems.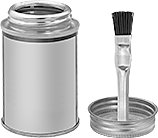 For

Max.


Pipe


Dia.

Begins
to
Harden
Reaches
Full
Strength
Consistency

Viscosity,


cP

Temp.




Range,




°F

Color
Specifications
Met

8 fl.




oz.



16


fl.




oz.

32


fl.




oz.

For PVC Plastic

6"
60 sec.
24 hrs.
Thin Liquid
500
40° to 110°
Clear
ASTM D2564, NSF/ANSI 61
00000000
12"
60 sec.
24 hrs.
Thick Liquid
1,600
40° to 110°
Clear
ASTM D2564, NSF/ANSI 61
00000000
12"
60 sec.
24 hrs.
Thick Liquid
1,600
40° to 110°
Gray
ASTM D2564, NSF/ANSI 61
00000000

For

ABS,

PVC,

and CPVC Plastic

6"
60 sec.
24 hrs.
Thin Liquid
500
40° to 110°
Clear
__
00000000