Ultra-Conformable

Light Duty Vinyl Foam Sheets and Strips
These vinyl foam sheets and strips are so conformable that once they're compressed they won't fully spring back. Use them to fill gaps and seal uneven surfaces. They offer excellent resistance to water, sunlight, and oxidation. This foam has closed-cell construction, which restricts water, air, and gases from being absorbed.
Foam with ultra-smooth texture has a sleek surface that's easy to wipe down.
Foam Material Sample Packs

Includes a total of 12 sheets: one of each material listed in the table.
For technical drawings and 3-D models, click on a part number.
Material

Thick.

Pkg.

Buna-N Foam, EPDM Foam, EVA Foam, Ionomer Foam, Natural Gum Foam, Neoprene Foam, Polyethylene Foam, Polyimide Foam, Polyurethane Foam, Silicone Foam, Vinyl Foam, Viton® Fluoroelastomer Foam

1/8

" to

1/2

"
0000000
000000
Pipe
Condensation-Reducing

Rubber Strips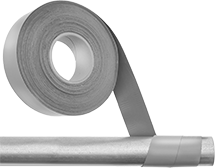 Wrap pipes, tubing, and fittings to prevent condensation from forming. These strips are for use on copper, iron, and steel.
Vinyl foam strips restrict absorption of water, air, and gas. These strips have a foil covering.
Thick.

Wd.

Lg.,




ft.

Temperature


Range,

°F

Flexibility
Backing
Type
Color
Each

Vinyl Foam

1/8

"
2"
30
-40° to 180°
Flexible
Adhesive
Silver
0000000
000000