Ready-to-Use

Steel Outlet Boxes
These boxes come ready to use with receptacles and/or light switches installed. Use the included plug-in connectors with wire leads to connect the receptacles and/or light switches. See information about NEMA straight-blade receptacles.
Flush-mount receptacles create a streamlined appearance—their flat face lies flush with the faceplate.
Tamper-resistant receptacles have internal shutters, which prevent the insertion of foreign objects and accidental contact with power.
Sure-grip receptacles, also known as hospital-grade receptacles, have an extra-tight fit when mated to remain secure in high-vibration environments.
Outlet boxes with GFCIs (ground fault circuit interrupters) keep personnel safe from electric shock by adding ground fault protection.
For technical drawings and 3-D models, click on a part number.

With 4 Outlets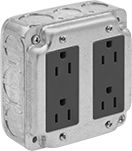 With 4
Flush-Mount
Outlets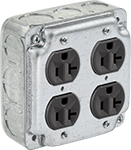 With 4
Tamper-Resistant
Outlets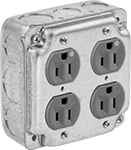 With 4
Sure-Grip
Tamper-Resistant
Outlets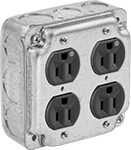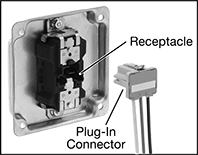 Interior of Cover
Industry
Designation
NEMA
Style
Voltage

Current,


A

No.


of
Gauge
Industry
Designation

Lg.

Ht.

Wd.

Dp.

No.


of
Knockouts
Knockout
Trade
Size
Material
Features
Choose an
Outlet
Color
Each

With 4 Outlets

2 Gang
5-15
125V AC
15
3
12
THHN
6"
4"
4"
2

1/8

"
16

1/2

,

3/4

Zinc-Plated Steel
__
00000000
000000
2 Gang
5-20
125V AC
20
3
12
THHN
6"
4"
4"
2

1/8

"
16

1/2

,

3/4

Zinc-Plated Steel
__
00000000
00000

With 4

Flush-Mount

Outlets

2 Gang
5-15
125V AC
15
3
12
THHN
6"
4"
4"
2

1/8

"
16

1/2

,

3/4

Zinc-Plated Steel
__
00000000
00000
2 Gang
5-20
125V AC
20
3
12
THHN
6"
4"
4"
2

1/8

"
16

1/2

,

3/4

Zinc-Plated Steel
__
00000000
00000

With 4

Tamper-Resistant

Outlets

2 Gang
5-15
125V AC
15
3
12
THHN
6"
4"
4"
2

1/8

"
16

1/2

,

3/4

Zinc-Plated Steel
Internal Shutters
00000000
00000
2 Gang
5-20
125V AC
20
3
12
THHN
6"
4"
4"
2

1/8

"
16

1/2

,

3/4

Zinc-Plated Steel
Internal Shutters
00000000
00000

With 4

Tamper-Resistant

Sure-Grip

Outlets

2 Gang
5-15
125V AC
15
3
12
THHN
6"
4"
4"
2

1/8

"
16

1/2

,

3/4

Zinc-Plated Steel
Internal Shutters
00000000
00000
2 Gang
5-20
125V AC
20
3
12
THHN
6"
4"
4"
2

1/8

"
16

1/2

,

3/4

Zinc-Plated Steel
Internal Shutters
00000000
00000
2 Gang
5-15
125V AC
15
3
12
THHN
6"
4"
4"
2

1/8

"
16

1/2

,

3/4

Zinc-Plated Steel
__
0000000
00000
2 Gang
5-20
125V AC
20
3
12
THHN
6"
4"
4"
2

1/8

"
16

1/2

,

3/4

Zinc-Plated Steel
__
00000000
00000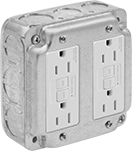 With 4 GFCI Outlets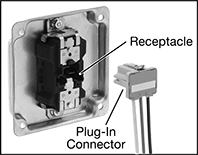 Interior of Cover
Industry
Designation
NEMA
Style
Voltage

Current,


A

No.


of
Gauge
Industry
Designation

Lg.

Ht.

Wd.

Dp.

No.


of
Knockouts
Knockout
Trade
Size
Material
Choose an
Outlet
Color
Each

With 4 Outlets

2 Gang
5-15
125V AC
15
3
12
THHN
6"
4"
4"
2

1/8

"
16

1/2

,

3/4

Zinc-Plated Steel
0000000
0000000
2 Gang
5-20
125V AC
20
3
12
THHN
6"
4"
4"
2

1/8

"
16

1/2

,

3/4

Zinc-Plated Steel
00000000
000000