How to

Identify and Measure Fittings
Pipe size is an industry designation, not the actual size. View information about how to measure threaded and unthreaded pipe and pipe fittings.
Quick-Disconnect

Tube Couplings for Food and Beverage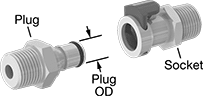 Temperature

Range:


Acetal

Plastic:

-40° to 180° F


Polypropylene

Plastic:

32° to 160° F

Tubing:


Barbed

Fittings:

Use with soft or firm

(Durometer

65A-80A)

polyurethane rubber
Compression

Fittings:

Use with hard or firm

(Durometer

80A-60D)

nylon or polyethylene plastic
Specifications

Met:

NSF/ANSI 169
Couplings consist of a plug and a socket (sold separately) that join with a latch, so you can frequently connect and disconnect your line. To connect, insert the plug into the socket; to disconnect, press the latch on the socket and remove the plug. They're made of FDA-approved materials, including moisture-resistant plastic that won't absorb liquid and lose strength, even in high-humidity food and beverage applications.
Plugs and sockets with shut-off have a valve to stop the flow when the coupling is separated, so fluid won't spill from your line.
Note: For a complete coupling, order a plug and a socket with the same coupling size.
For technical drawings and 3-D models, click on a part number.