T‐Slotted Framing Outlet Strips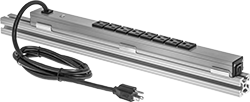 Outlet Strip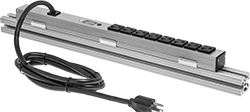 Outlet Strip with Surge Protector


Add electrical outlets to workstations with these outlet strips that mount on T-slotted rails. Use the included fasteners to connect the mounting clips to the rail, then snap the outlet strip into the clips.
Outlet strips with surge suppression protect sensitive electronics from voltage spikes.
For technical drawings and 3-D models, click on a part number.
Single

Double,


Quad
Triple
Total


No.

of
Outlets
Cord


Lg.,




ft.

Lg.

Gender
NEMA
Style
Gender
NEMA
Style

Current,


A
Voltage
Specifications
Met
Mounting
Fasteners
Included
Each

Outlet Strips

1", 30mm, 1

1/2

", 40mm
2", 60mm, 3", 80mm
3", 4

1/2

"
8
6
20"
Male
5-15
Female
5-15
15
120V AC
UL Listed

Yes
000000000
000000

Outlet Strips with Surge Suppression

1", 30mm, 1

1/2

", 40mm
2", 60mm, 3", 80mm
3", 4

1/2

"
8
6
20"
Male
5-20
Female
5-20
20
120V AC
UL Listed

Yes
00000000
000000
1", 30mm, 1

1/2

", 40mm
2", 60mm, 3", 80mm
3", 4

1/2

"
8
15
20"
Male
5-20
Female
5-20
20
120V AC
UL Listed

Yes
00000000
000000