How to

Identify and Measure Fittings
Pipe size is an industry designation, not the actual size. View information about how to measure threaded and unthreaded pipe and pipe fittings.
Plastic
Quick-Turn

Tube Couplings with

Shut-Off

for Air and Water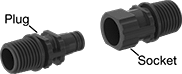 Temperature

Range:

-50° to 150° F

Tubing:

Use with firm or soft

(Durometer

35A-85A)

PVC plastic or silicone

rubber,

except fittings with pipe end
A built-in shut-off valve stops the flow when the coupling is separated, so air or water won't leak from your line. Also known as luer lock couplings, these consist of a plug and socket (sold separately) that connect with a half turn. They have a compact body, so they're easy to fit in tight spaces. Couplings have a universal connection, so the plugs will connect to any of the sockets, regardless of the pipe or tube size. They are nylon, which is lightweight with good impact and abrasion resistance.
Note: For a complete coupling, order a plug and a socket.
For technical drawings and 3-D models, click on a part number.