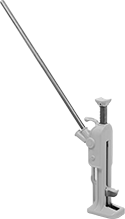 Choose between two lifting points—use the toe for lifting loads low to the ground, or use the saddle when you need a higher, more stable lifting point. The saddle is curved to cradle curved loads. Jacks have a ratcheting action that raises or lowers the load one notch at a time. A removable handle can be used at two different positions to get the best angle for lifting.
Aluminum jacks are lighter than iron for easier portability.
Warning: Never use to support people or loads over people.
For technical drawings and 3-D models, click on a part number.
tons

lbs.

Max.


Lift

Ht.

Lg.

Wd.

Ht.

Movement

Wd.

Lg.

Wd.

Lg.

Handle


Lg.

Handle
Material
Each

Iron

5
10,000
7"
1.75"-8.75"
2

1/2

"
1

1/8

"
14"-21"
Rigid
2

3/8

"
2

5/8

"
7

3/8

"
5"
36"
Steel
000000
0000000
5
10,000
10"
1.75"-11.75"
2

1/2

"
1

1/8

"
17"-27"
Rigid
2

3/8

"
2

5/8

"
7

3/8

"
5"
36"
Steel
000000
00000000
5
10,000
13"
1.75"-14.75"
2

1/2

"
1

1/8

"
20"-33"
Rigid
2

3/8

"
2

5/8

"
7

3/8

"
5"
36"
Steel
000000
00000000
10
20,000
9

1/2

"
1.625"-11.125"
2

3/8

"
1

1/8

"
17.25"-26.75"
Rigid
2

5/8

"
2

7/8

"
8

3/4

"
6"
60"
Steel
0000000
00000000
10
20,000
12"
2"-14"
2

3/8

"
2

1/2

"
21.625"-33.625"
Rigid
2

1/2

"
3"
10

1/4

"
6

1/2

"
60"
Steel
000000
00000000
15
30,000
12

3/4

"
2.25"-15"
2

5/8

"
2

1/4

"
23.25"-36"
Rigid
2

7/8

"
3

1/2

"
10

1/4

"
8"
70"
Steel
0000000
00000000
15
30,000
18"
2.25"-20.25"
2

5/8

"
2

1/4

"
28"-46"
Rigid
2

7/8

"
3

1/2

"
11"
8"
70"
Steel
0000000
00000000

Aluminum

10
20,000
12"
2"-14"
2

3/8

"
2

1/2

"
21.625"-33.625"
Rigid
2

1/2

"
3"
10

1/4

"
6

1/2

"
60"
Steel
000000
00000000