Ratcheting Crank Handles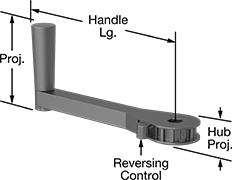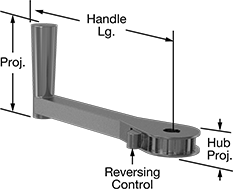 Round Hole with Keyway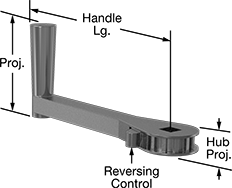 Square Hole



A combination ratchet arm and revolving-grip crank handle makes frequent machinery adjustments in tight spaces fast and easy. Flip the control switch to reverse the ratcheting direction. Long hex-, round-, or square-shaped shafts can pass through these handles for mounting versatility. Drill a hole in the side of the hub to secure with a set screw.
Handles with a keyway are for mounting to keyed shafts.
For technical drawings and 3-D models, click on a part number.
Handle


Lg.

Projection
Hub
Projection
Hole


Wd.

Hole


Dia.

Wd.

Dp.

Ht.

Material
Color

Temp.




Range,




°F

Mount
Type
Each

Black

Powder-Coated

Steel

Hex Hole

7"
4

9/32

"

19/32

"

1/2

"
__
__
__
3

11/16

"
Phenolic Plastic
Black
Not Rated to 300°
Unthreaded Through Hole
0000000
000000
7"
4

9/32

"

19/32

"

5/8

"
__
__
__
3

11/16

"
Phenolic Plastic
Black
Not Rated to 300°
Unthreaded Through Hole
0000000
00000
10"
4

9/16

"

7/8

"

3/4

"
__
__
__
3

11/16

"
Phenolic Plastic
Black
Not Rated to 300°
Unthreaded Through Hole
0000000
000000
10"
4

9/16

"

7/8

"
1"
__
__
__
3

11/16

"
Phenolic Plastic
Black
Not Rated to 300°
Unthreaded Through Hole
0000000
000000
12"
4

9/16

"

7/8

"
1

1/4

"
__
__
__
3

11/16

"
Phenolic Plastic
Black
Not Rated to 300°
Unthreaded Through Hole
0000000
000000

Round Hole with Keyway

7"
4

9/32

"

19/32

"
__

1/2

"

1/8

"

1/16

"
3

11/16

"
Phenolic Plastic
Black
Not Rated to 300°
Unthreaded Through Hole
0000000
00000
7"
4

9/32

"

19/32

"
__

5/8

"

3/16

"

3/32

"
3

11/16

"
Phenolic Plastic
Black
Not Rated to 300°
Unthreaded Through Hole
0000000
00000
10"
4

9/16

"

7/8

"
__

3/4

"

3/16

"

3/32

"
3

11/16

"
Phenolic Plastic
Black
Not Rated to 300°
Unthreaded Through Hole
0000000
000000
10"
4

9/16

"

7/8

"
__
1"

1/4

"

1/8

"
3

11/16

"
Phenolic Plastic
Black
Not Rated to 300°
Unthreaded Through Hole
0000000
000000

Square Hole

7"
4

9/32

"

19/32

"

3/8

"
__
__
__
3

11/16

"
Phenolic Plastic
Black
Not Rated to 300°
Unthreaded Through Hole
0000000
00000
7"
4

9/32

"

19/32

"

1/2

"
__
__
__
3

11/16

"
Phenolic Plastic
Black
Not Rated to 300°
Unthreaded Through Hole
0000000
00000
7"
4

9/32

"

19/32

"

5/8

"
__
__
__
3

11/16

"
Phenolic Plastic
Black
Not Rated to 300°
Unthreaded Through Hole
0000000
00000
10"
4

9/16

"

7/8

"

1/2

"
__
__
__
3

11/16

"
Phenolic Plastic
Black
Not Rated to 300°
Unthreaded Through Hole
0000000
000000
10"
4

9/16

"

7/8

"

5/8

"
__
__
__
3

11/16

"
Phenolic Plastic
Black
Not Rated to 300°
Unthreaded Through Hole
0000000
000000
10"
4

9/16

"

7/8

"

3/4

"
__
__
__
3

11/16

"
Phenolic Plastic
Black
Not Rated to 300°
Unthreaded Through Hole
0000000
000000
12"
4

9/16

"

7/8

"

3/4

"
__
__
__
3

11/16

"
Phenolic Plastic
Black
Not Rated to 300°
Unthreaded Through Hole
0000000
000000
12"
4

9/16

"

7/8

"
1"
__
__
__
3

11/16

"
Phenolic Plastic
Black
Not Rated to 300°
Unthreaded Through Hole
0000000
000000