DFARS
(Defense
Acquisition
Regulations
System)
Deburring Reamers
Smooth the inside and edges of holes or the ends of cut pipe and
conduit.
Also known as
repairmen's
reamers,
they are used to enlarge holes and countersink the
edges.
Note:
Never rotate the reamer in the reverse direction of the
cut.
This will ruin its
accuracy.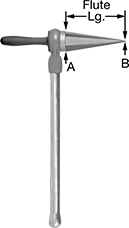 A ratcheting
handle provides leverage to ream by
hand.
Use

steel
reamers on plastic and metals such
aluminum,
stainless
steel,
and
steel.
They're
not as durable high-speed
steel.
For
Pipe
Size

Reamer
Size

Reamer
Diameter
(A)

Reamer
Diameter
(B)

Flute
Length

Number
of
Flutes

Ratcheting
Handle
Length

Reamer
Handle
Length

Straight

flutes

are used for general purpose

cutting.

Since chips are forced forward into the

hole,

they perform best in through-hole

applications.

1/8

-2

1/4

"-2

1/4

"

2.2500"

0.2500"

Steel
6

3/8

"

5

16"

6

5/8

"

Aluminum

,

Brass

,

Bronze

,

Copper

,

Iron

,

Plastic

,

Stainless Steel

,

Steel

3678N12

$229.37

3/8

-3

3/8

"-3

1/4

"

3.2500"

0.3750"

Steel

9"

5

16"

10"

Aluminum

,

Brass

,

Bronze

,

Copper

,

Iron

,

Plastic

,

Stainless Steel

,

Steel

3678N13

539.40