Recessed Can Lights
Create recessed can lights by pairing a housing with a light. These lights fit into ceiling cutouts to provide directed, ambient lighting so they're often used in indoor spaces such as offices and lobbies, or for decorative lighting. Rated for use in damp locations, these lights withstand humidity and moisture.
Lights have built-in LEDs, which last longer, are more efficient, and generate less heat than other technologies. Clips on the sides hold the light in a housing.
Baffle-reflector lights minimize glare and soften the light. Smooth-reflector lights focus light down.
Install screw-in base lights using the screw-in base converter.
Warm light highlights yellow tones similarly to incandescent bulbs. Cool light is best for performing detailed tasks and inspections.
For technical drawings and 3-D models, click on a part number.
Lights with Screw-In Base Connection—Built-In LED Bulbs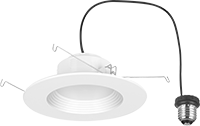 With
Screw-In
Base Connection and Baffle Reflector

With
Screw-In
Base
Connection and
Smooth Reflector
For
Housing
ID

Dia.

Ht.

Equiv.


Incandescent
Bulb Wattage
Voltage

Brightness,


lumens
Light
Appearance
Wattage

Screw-In


Base
Size
Specifications
Met
Each

Baffle Reflector

5", 6"
7

3/8

"
2

5/8

"
65W
120V AC
725
Warm (3,000K)
8.5W
Medium (Standard Household)
C-UL Listed, UL Listed
000000
000000
5", 6"
7

3/8

"
2

5/8

"
65W
120V AC
725
Cool (4,000K)
8.5W
Medium (Standard Household)
C-UL Listed, UL Listed
000000
00000
5", 6"
7

3/8

"
2

5/8

"
75W
120V AC
900
Warm (3,000K)
10.5W
Medium (Standard Household)
C-UL Listed, UL Listed
0000000
00000
5", 6"
7

3/8

"
2

5/8

"
75W
120V AC
900
Cool (4,000K)
10.5W
Medium (Standard Household)
C-UL Listed, UL Listed
0000000
00000
5", 6"
7

3/8

"
2

5/8

"
100W
120V AC
1,200
Warm (3,000K)
14W
Medium (Standard Household)
C-UL Listed, UL Listed
0000000
00000

Smooth Reflector

5", 6"
7

1/4

"
2

3/4

"
75W
120V AC
900
Warm (3,000K)
13W
Medium (Standard Household)
C-UL Listed, UL Listed
000000
00000