Cloth Rags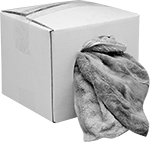 Corduroy rags are durable.
Denim rags are blue jean material and often used with oil and grease.
Flannel rags are highly absorbent.
Huck-towel rags are very strong and absorbent. They have been sanitized.
Diaper-cloth and sweatshirt rags are often used for polishing.
Sheet rags are often used for cleaning and polishing in tight corners. Made of 100% cotton, they will not conduct static electricity.
Rag
Type

Lg.

Wd.

Material
Container
Type
Color
Condition
Features
Approximate
Rags per
Pound

5 lbs.

25


lbs.

50


lbs.

Corduroy
12"-18"
12"-18"
Cotton Fabric
Pop-Up Box
Various
Washed
__
6-10
0000000
Denim
12"-18"
12"-18"
Cotton Fabric
Pop-Up Box
Various
Washed
__
6-10
0000000
Flannel
12"-18"
12"-18"
Cotton Blend Fabric
Pop-Up Box
Various
Washed
__
7-10
0000000
Huck Towel
12"-18"
12"-18"
Cotton Fabric
Pop-Up Box
Various
Washed
Low Linting
7-8
0000000
Sweatshirt
12"-18"
12"-18"
Cotton Blend Fabric
Pop-Up Box
Various
Washed
__
6-8
0000000
Sheet
12"-18"
12"-18"
Cotton Fabric
Pop-Up Box
White
Washed
__
8-10
0000000
Terry Cloth
12"-18"
12"-18"
Cotton Fabric
Pop-Up Box
Various
Washed
__
6-8
0000000