Pressure-Regulating

Valves for Chemicals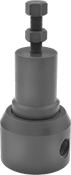 For Use

With:

Chemicals
Temperature

Range:


Polypropylene

Body:

35° to 180° F


PVC

Body:

40° to 140° F



A plastic body and fluoroelastomer seal stand up to harsh chemicals. These valves automatically reduce a high, variable inlet pressure to a lower, stable outlet pressure. Adjust the outlet pressure within the range.
Polypropylene valves withstand higher temperatures than PVC valves.
For technical drawings and 3-D models, click on a part number.
Pipe
Size

Location

Max.




Pressure,

psi
Pipe
Size

Location
Pressure


Range,

psi

End-to-End




Lg.

Each

NPT Female

Polypropylene

Body—

Fluoroelastomer Seal

1/2

Side
125

1/2

Side
10 to 80
3"
00000000
0000000

3/4

Side
125

3/4

Side
10 to 80
3

15/16

"
00000000
000000
1

Side
125
1

Side
10 to 80
3

15/16

"
00000000
000000

PVC

Body—

Fluoroelastomer Seal

1/2

Side
125

1/2

Side
10 to 80
3"
00000000
000000

3/4

Side
125

3/4

Side
10 to 80
3

15/16

"
00000000
000000
1

Side
125
1

Side
10 to 80
3

15/16

"
00000000
000000
1

1/2

Side
125
1

1/2

Side
10 to 80
6

1/8

"
00000000
000000
2

Side
125
2

Side
10 to 80
6"
00000000
00000000