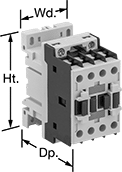 Use these relays with large motors and lighting systems. Also known as IEC contactors, they are built to International Electrotechnical Commission (IEC) dimensional standards. All have recessed terminals to prevent contact with live connections. Mount to 35 mm DIN rail.
Auxiliary contacts allow you to add a signaling device or control another relay. Add one front-mount contact per relay or two side-mount contacts per relay.
For technical drawings and 3-D models, click on a part number.
Switching
Current @
600V AC

Number
of
Terminals
Input
Voltage
Control
Power
Full
Load
Resistive
Load
Single
Phase
Three
Phase

Ht.

Wd.

Dp.

Specifications
Met
Each

4 Circuits

Controlled with 4 Off

(Normally Open)—

4PST-NO

12
24V AC
6.5VA
22A
45A
2 hp @ 120 V AC
5 hp @ 240 V AC
7

1/2

hp @ 240 V AC
15 hp @ 480 V AC
20 hp @ 600 V AC
3.5"
2.4"
3.5"
UL Listed
C-UL Listed
000000000
0000000
12
120V AC
6.5VA
22A
45A
2 hp @ 120 V AC
5 hp @ 240 V AC
7

1/2

hp @ 240 V AC
15 hp @ 480 V AC
20 hp @ 600 V AC
3.5"
2.4"
3.5"
UL Listed
C-UL Listed
000000000
000000
12
240V AC
6.5VA
22A
45A
2 hp @ 120 V AC
5 hp @ 240 V AC
7

1/2

hp @ 240 V AC
15 hp @ 480 V AC
20 hp @ 600 V AC
3.5"
2.4"
3.5"
UL Listed
C-UL Listed
000000000
000000
12
24V DC
5.4W
22A
45A
2 hp @ 120 V AC
5 hp @ 240 V AC
7

1/2

hp @ 240 V AC
15 hp @ 480 V AC
20 hp @ 600 V AC
3.5"
2.4"
4.2"
UL Listed
C-UL Listed
00000000
000000