DIN-Rail

Mount

Long-Life

High-Current

Relays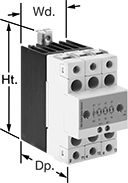 With no moving parts, these solid state relays have an extended service life. Mount them directly to 35 mm DIN rail. They have an integrated heat sink that disperses heat to provide optimal convection cooling. An LED indicator tells you if they are open or closed. Relays are rated for continuous operating duty. They do not switch DC loads.
For technical drawings and 3-D models, click on a part number.
Number
of
Terminals
Input
Voltage
Control


Current,


mA
Full Load
Switching
Current @ 600V AC
hp @
Switching
Voltage

Ht.

Wd.

Dp.

Specifications
Met

Each

3 Circuits

Controlled with 3 Off

(Normally Open)—

3PST-NO

Three Phase

10
5-32V DC
10
65A
10 hp @ 230 V AC
20 hp @ 480 V AC
5.6"
2.8"
5.6"
UL Listed
C-UL Listed
CE Marked

0000000
0000000
10
20-275V AC/24-190V DC
1
65A
10 hp @ 230 V AC
20 hp @ 480 V AC
5.6"
2.8"
5.6"
UL Listed
C-UL Listed
CE Marked

0000000
000000
Infrequent-Cycle

High-Current

Relays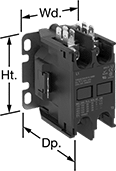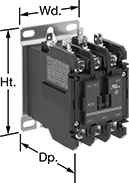 For use with equipment that cycles on and off, these relays meet UL 508 for air conditioning and heating. Connections are accessible from the front, so you can mount relays side-by-side. Also known as definite-purpose contactors.
Enclosures (sold separately) are NEMA 1 rated to protect contacts from corrosion.
Also Available: Auxiliary contacts for 3.8"-7.2" Ht. relays. They allow you to add a signaling device or control another relay. Please select 6564K99, then select the McMaster-Carr part number of your relay and whether you want to switch one circuit on (1 Normally Open) or off (1 Normally Closed).
Switching
Current @
600V AC

Number
of
Terminals
Input
Voltage
Control
Power
Full
Load
Resistive
Load
Single
Phase
Three
Phase

Ht.

Wd.

Dp.

Quick-Disconnect


Tab

Wd.

Specifications
Met
Each

2 Circuits

Controlled with 2 Off

(Normally Open)—

DPST-NO

With

Quick-Disconnect

and Screw Terminals

4
24V AC
10VA
50A
65A
3 hp @ 115 V AC
10 hp @ 230 V AC
15 hp @ 230 V AC
30 hp @ 460 V AC
30 hp @ 575 V AC
3.8"
2.4"
3.4"
0.25"
UL Recognized Component, CSA Certified, CE Marked, UL 508
00000000
0000000
4
120V AC
10VA
50A
65A
3 hp @ 115 V AC
10 hp @ 230 V AC
15 hp @ 230 V AC
30 hp @ 460 V AC
30 hp @ 575 V AC
3.8"
2.4"
3.4"
0.25"
UL Recognized Component, CSA Certified, CE Marked, UL 508
00000000
000000
4
24V DC
3.1W
50A
65A
3 hp @ 115 V AC
10 hp @ 230 V AC
15 hp @ 230 V AC
30 hp @ 460 V AC
30 hp @ 575 V AC
3.8"
2.4"
3.4"
0.25"
UL Recognized Component, CSA Certified, CE Marked, UL 508
00000000
000000
4
208/240V AC
10VA
50A
65A
3 hp @ 115 V AC
10 hp @ 230 V AC
15 hp @ 230 V AC
30 hp @ 460 V AC
30 hp @ 575 V AC
3.8"
2.4"
3.4"
0.25"
UL Recognized Component, CSA Certified, CE Marked, UL 508
00000000
000000

3 Circuits

Controlled with 3 Off

(Normally Open)—

3PST-NO

With

Quick-Disconnect

and Screw Terminals

6
24V AC
10VA
50A
65A
3 hp @ 115 V AC
10 hp @ 230 V AC
15 hp @ 230 V AC
30 hp @ 460 V AC
30 hp @ 575 V AC
3.8"
2.4"
3.4"
0.25"
UL Recognized Component, CSA Certified, CE Marked, UL 508
00000000
000000
6
120V AC
10VA
50A
65A
3 hp @ 115 V AC
10 hp @ 230 V AC
15 hp @ 230 V AC
30 hp @ 460 V AC
30 hp @ 575 V AC
3.8"
2.4"
3.4"
0.25"
UL Recognized Component, CSA Certified, CE Marked, UL 508
00000000
000000
6
24V DC
3.1W
50A
65A
3 hp @ 115 V AC
10 hp @ 230 V AC
15 hp @ 230 V AC
30 hp @ 460 V AC
30 hp @ 575 V AC
3.8"
2.4"
3.4"
0.25"
UL Recognized Component, CSA Certified, CE Marked, UL 508
00000000
000000
6
208/240V AC
10VA
50A
65A
3 hp @ 115 V AC
10 hp @ 230 V AC
15 hp @ 230 V AC
30 hp @ 460 V AC
30 hp @ 575 V AC
3.8"
2.4"
3.4"
0.25"
UL Recognized Component, CSA Certified, CE Marked, UL 508
00000000
000000
| | | | |
| --- | --- | --- | --- |
| Enclosures for 60A 3PST-NO Relays and 4PST-NO Relays | 00000000 | Each | 0000000 |