Chemical-Resistant

Slippery PTFE Film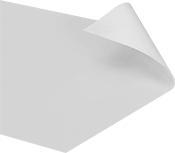 PTFE has a naturally slippery surface that allows objects to easily slide across it. It resists most solvents and stands up to extreme temperatures. It's also an excellent electrical insulator.
Film with a coarse texture masks scratches, scuffs, and fingerprints.
Color:

Semi-Clear White
Temperature

Range:

-350° to 500° F

Tensile

Strength:

4,

500 psi

(Poor)

Impact

Strength:

3.

5

ft.

-

lbs./in.

(Good)

Hardness:

Durometer

46D-60D

(Medium

Soft)

For Use

Outdoors:

Yes
Specifications

Met:

FDA Compliant 21 CFR

177.1550,

FDA Compliant 21 CFR

178.3297,

UL 94 V-0
High-Temperature

Moisture-Resistant

Polyester Film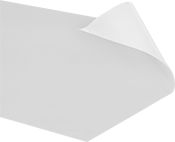 Often used as a separator when heating parts in an oven, this wear-resistant film can also protect surfaces when etching or sanding. Also called PET and PETE, polyester resists swelling when exposed to moisture. When used as a separator, film should be cut larger than the piece it is being released from.
Film with a smooth texture releases cleanly from rubber and most synthetic resins. This film is skived, so the edges may curl.
Color:

Semi-Clear White

Max.

Temperature:

400° F

Tensile

Strength:

25,

000 psi

(Excellent)

Impact

Strength:

0.

24

ft.

-

lbs./in.

(Poor)

Hardness:

Rockwell

M94-M101

(Hard)

For Use

Outdoors:

No