Emergency Insulation Blankets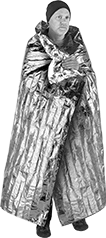 Stay warm during an emergency—these blankets retain 80% of body heat even in rainy and windy conditions. The bright orange exterior is highly visible. Lightweight and compact, these blankets are easily stored and carried.
Wd.,




ft.

Lg.,




ft.

Thick.,


mil
Color
Each

Polyester Plastic

5
7
0.5
Orange/Silver
0000000
00000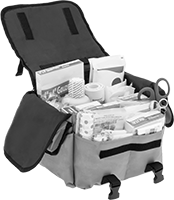 Kits and refills cannot be sold outside of the United States due to product registration requirements.
For

Max.

No.


of People

Ht.

Wd.

Dp.

Color
Cannot Be Sold To
Includes
Each
Each

Fabric

10
7"
12"
7"
Red
Outside United States
Alcohol Pads, Antiseptic Wipes, Arm Sling, Bandages, Blood Stop Pad, Burn Dressing, Cold Pack, CPR Mask, Disposable Gloves, Eye Wash Solution, Gauze Pads, Gauze Rolls, Heat-Retention Blanket, Scissors, Tri-Cut First-Aid Tape, Tweezers
000000
0000000
000000
000000
Fanny Pack
First-Aid

Kits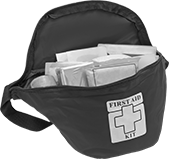 Kit comes with an adjustable waist belt. It cannot be sold outside the United States due to product regulations.
For

Max.

No.


of People
Waist Size

Ht.

Wd.

Dp.

Includes
Cannot Be Sold To
Each

Plastic

5
28" to 44"
4

1/2

"
8

1/2

"
3

1/4

"
Adhesive Tape, Antiseptic Wipes, Arm Sling, Blood Stop Pad, Burn Pain Ointment, Cold Pack, CPR Mask, Disposable Gloves, Elastic Bandage, Eye Pads, Eye Wash Solution, First-Aid Manual, Forceps, Gauze Pad, Insect Sting Wipes, Plastic Bandages, Scissors
Outside United States
00000000
000000