DFARS (Defense Acquisition Regulations Supplement)

DFARS

(Defense

Acquisition
Regulations

Supplement)
REACH (Registration, Evaluation, Authorization and Restriction of Chemicals)

REACH

(Registration,




Evaluation,

Authorization
and Restriction of

Chemicals)
RoHS (Restriction of Hazardous Substances)

RoHS

(Restriction

of
Hazardous

Substances)
Cone Paint and Resin Strainers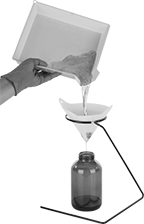 Pour paint, lacquer, and resin through these strainers to remove lumps, flakes, dust, and other contaminants for a high-quality finish. They're made of a polyester mesh for better filtration than cotton strainers, which often contain loose fibers. These cone-shaped strainers are wide enough at the top for easy pouring from quart-sized paint cans.
Choose strainers that remove particles down to 190 microns for thinner liquids such as lacquer, enamels, and 3D printer resins. Filtering the fine particles found in resin tanks will improve the quality of your 3D print.
Stands are sturdy—they hold strainers in place, so you can filter liquids quickly and without a mess.