Retention Knobs
Knob with Coolant Hole

Knob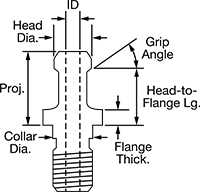 Knob with Coolant Hole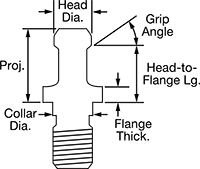 Knob
Attach tool holders such as collet chucks and end mill holders to your CNC machine's spindle. For proper operation, choose a knob that exactly matches your collet type and spindle dimensions. All meet industrial standards for tensile and shear strength. These knobs are also known as pull studs.
Knobs with a coolant hole let coolant flow through to protect your tools and workpiece.
For technical drawings and 3-D models, click on a part number.
Grip
Angle
Projection
Head


Dia.

Collar


Dia.

Head-to-Flange




Lg.

Flange


Thick.

ID
Torque
Range
Material
Features
Manufacturer
Manufacturer
Model


No.

Specifications
Met
Each

CAT 40 Taper

15°
1.03"
0.748"
0.512"
0.793"
0.28"
0.276"
44 ft.-lbs. to 59 ft.-lbs.
Steel
Coolant Hole
Lyndex Nikken
C40-1500
ISO 7388-3, JIS B 6339
0000000
000000
15°
1.03"
0.748"
0.641"
0.793"
0.28"
0.276"
44 ft.-lbs. to 59 ft.-lbs.
Steel
O-Ring, Coolant Hole
Lyndex Nikken
C40-1500(R)
ISO 7388-3, JIS B 6339
0000000
00000
15°
1.03"
0.748"
0.641"
0.793"
0.28"
0.276"
44 ft.-lbs. to 59 ft.-lbs.
Steel
O-Ring, Coolant Hole
Lyndex Nikken
C40-1500-MORI
ISO 7388-3, JIS B 6339
0000000
00000
30°
1.266"
0.591"
0.512"
0.99"
0.24"
__
44 ft.-lbs. to 59 ft.-lbs.
Steel
__
Lyndex Nikken
C40S-6000
ISO 7388-3, JIS B 6339
0000000
00000
45°
0.64"
0.74"
0.512"
0.433"
0.12"
0.276"
44 ft.-lbs. to 59 ft.-lbs.
Steel
Coolant Hole
Lyndex Nikken
C40-STD
ISO 7388-3, JIS B 6339
0000000
00000
45°
0.64"
0.74"
0.641"
0.44"
0.12"
0.157"
Not Rated
Steel
O-Ring, Coolant Hole
Lyndex Nikken
PS-B64-1
ISO 7388-3, JIS B 6339
0000000
00000
45°
1.266"
0.591"
0.512"
0.99"
0.24"
__
44 ft.-lbs. to 59 ft.-lbs.
Steel
__
Lyndex Nikken
C40S-4500
ISO 7388-3, JIS B 6339
0000000
00000
45°
1.266"
0.591"
0.512"
0.99"
0.24"
0.177"
44 ft.-lbs. to 59 ft.-lbs.
Steel
Coolant Hole
Lyndex Nikken
C40S-4500(H)
ISO 7388-3, JIS B 6339
0000000
00000

CAT 50 Taper

30°
1.772"
0.906"
1.024"
1.378"
0.39"
0.236"
85 ft.-lbs. to 110 ft.-lbs.
Steel
O-Ring, Coolant Hole
Lyndex Nikken
PS-B61
ISO 7388-3, JIS B 6339
0000000
00000
45°
1"
1.142"
0.768"
0.701"
0.2"
0.461"
85 ft.-lbs. to 110 ft.-lbs.
Steel
Coolant Hole
Lyndex Nikken
C50-STD
ISO 7388-3, JIS B 6339
0000000
00000
45°
1.78"
0.906"
0.827"
1.386"
0.39"
0.236"
85 ft.-lbs. to 110 ft.-lbs.
Steel
Coolant Hole
Lyndex Nikken
C50-4500(H)
ISO 7388-3, JIS B 6339
0000000
00000

BT 30 Taper

30°
0.906"
0.433"
0.492"
0.709"
0.2"
__
16 ft.-lbs. to 18 ft.-lbs.
Steel
__
Lyndex Nikken
B30-6000
JIS B 6339
0000000
00000
45°
0.906"
0.433"
0.492"
0.709"
0.2"
__
16 ft.-lbs. to 18 ft.-lbs.
Steel
__
Lyndex Nikken
B30-4500
JIS B 6339
0000000
00000

BT 40 Taper

M16 × 2 mm

15°
1.142"
0.748"
0.669"
0.906"
0.28"
0.276"
44 ft.-lbs. to 59 ft.-lbs.
Steel
O-Ring, Coolant Hole
Lyndex Nikken
B40-1500(R)
JIS B 6339
0000000
00000
15°
1.142"
0.748"
0.669"
0.906"
0.28"
0.276"
44 ft.-lbs. to 59 ft.-lbs.
Steel
Coolant Hole
Lyndex Nikken
B40-1500
JIS B 6339
0000000
00000
15°
1.142"
0.748"
0.669"
0.906"
0.34"
0.276"
44 ft.-lbs. to 59 ft.-lbs.
Steel
O-Ring, Coolant Hole
Lyndex Nikken
B40-1500-MORI
JIS B 6339
0000000
00000
45°
0.752"
0.74"
0.669"
0.552"
0.24"
__
44 ft.-lbs. to 59 ft.-lbs.
Steel
__
Lyndex Nikken
B40-FADAL
JIS B 6339
0000000
00000
45°
1.378"
0.591"
0.669"
1.102"
0.24"
__
44 ft.-lbs. to 59 ft.-lbs.
Steel
__
Lyndex Nikken
B40-4500
JIS B 6339
0000000
00000
45°
1.378"
0.591"
0.669"
1.102"
0.24"
0.181"
44 ft.-lbs. to 59 ft.-lbs.
Steel
Coolant Hole
Lyndex Nikken
B40-4500(H)
JIS B 6339
0000000
00000

BT 50 Taper

M24 × 3 mm

45°
1.772"
0.906"
0.984"
1.378"
0.39"
__
85 ft.-lbs. to 110 ft.-lbs.
Steel
__
Lyndex Nikken
B50-4500
JIS B 6339
0000000
00000
45°
1.772"
0.906"
0.984"
1.378"
0.39"
0.276"
85 ft.-lbs. to 110 ft.-lbs.
Steel
Coolant Hole
Lyndex Nikken
B50-4500(H)
JIS B 6339
0000000
00000