Telescoping Extension Ladders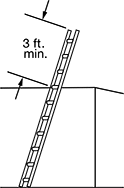 Get multiple heights in one ladder—these ladders extend and lock in 1-ft. increments to give you the exact height you need. When closed, they're small enough to fit in a job bag for easy transport and compact storage. To close, pinch tabs on the second rung to release the locking mechanism, and then slide each section down one by one.
ANSI A14.2 certifies dimensional and performance requirements for aluminum ladders. Type 1 ladders are tested to hold up to 250 lbs. Type 1A ladders are tested to hold up to 300 lbs.
Note: Check local, state, and federal codes, including OSHA, for safe operating practices. Per OSHA regulations, the ladder rails must rise at least three feet above the elevated surface being accessed.