Plug-In

Portable Lights with Retractable Cord Reels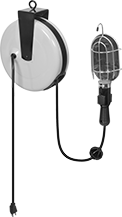 A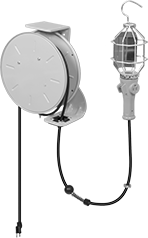 B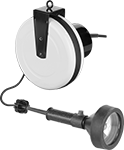 C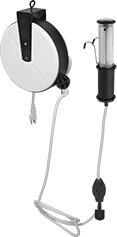 D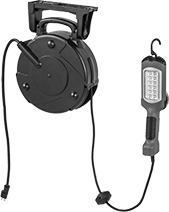 E
Keep excess cords out of your way—the reel locks the cord at any length and retracts it when not in use. All of the lights have a hook for hanging when you need both hands for other work.
Styles A and B lights are compatible with medium-base, screw-in CFL (compact fluorescent), halogen, incandescent, and LED bulbs (sold separately). They have a zinc-plated steel guard to protect the bulb.
Style C lights are furnished with an incandescent bulb and an impact-resistant plastic lens.
Styles D and E lights have built-in LEDs that last longer, are more effiecent, and generate less heat than other light technologies. They have a cool or daylight appearance that highlights white/blue tones, which is good for inspecting. They have an impact-resistant plastic lens to protect the LEDs.
Style

Lg.

Dia.

Wd.

Dp.

Reel


Dia.

Cord


Lg.,




ft.

Brightness,


lumens
Light
Appearance
Wattage
Bulb
Rated


Life,

hrs.

Material
Reel
Material
Color
Voltage
Outlet
Included
Each

For Replaceable

CFL,

Halogen,

Incandescent,

LED Bulbs

A
11

1/2

"
3"
__
__
9

1/2

"
30
__
__
1,250W
__
__
Steel
Black/Yellow
120V AC
Yes
000000
000000
A
12

1/2

"
3"
__
__
9

1/2

"
50
__
__
875W
__
__
Steel
Black/Yellow
120V AC
Yes
000000
00000
B
13

3/8

"
4

7/8

"
__
__
12"
25
__
__
100W
__
__
Steel
Yellow
120V AC
Yes
0000000
000000
B
13

3/8

"
4

7/8

"
__
__
12"
35
__
__
100W
__
__
Steel
Yellow
120V AC
Yes
0000000
000000
B
13

3/8

"
4

7/8

"
__
__
12"
50
__
__
100W
__
__
Steel
Yellow
120V AC
Yes
0000000
000000

For Replaceable Incandescent Bulbs

C
9

1/2

"
4

1/2

"
__
__
9"
25
Not Rated
Not Rated
30W
100
Plastic
Steel
Black/White
120V AC
No
0000000
000000
C
9

1/2

"
4

1/2

"
__
__
9"
42
Not Rated
Not Rated
30W
100
Plastic
Steel
Black/White
120V AC
No
0000000
000000
D
10

1/4

"
2

1/4

"
__
__
9

1/4

"
40
562
Cool (5000K)
6W
50,000
__
Steel
Black/White
120V AC
Yes
000000
000000
E
13

1/2

"
__
3

1/2

"
2

1/2

"
9

1/4

"
50
1,300
Daylight (6000K)
14W
10,000
__
Plastic
Black
125V AC
Yes
0000000
000000
| | | | |
| --- | --- | --- | --- |
| Replacement Incandescent Light Bulb for Style C | 00000000 | Each | 000000 |