Remote-Reading

Temperature-Regulating

Valves for

Water,

Oil,

and Steam
For Use

With:

Oil,

Steam,

Water
These valves have an external sensor that opens and closes the valve based on temperature changes in your tank or pipeline. Adjust the set temperature within the range. Body is bronze for durability and a long service life.
Dial thermometers display the sensor temperature. The dial can be rotated for easy viewing.
Valves that are closed until temperature rises are also known as reverse-acting valves. They're commonly used to cool oil or water from heat exchangers, chillers, and compressors. As the temperature in your tank or pipeline rises to the set temperature, the valve opens to let in cold water or oil. When the tank or pipeline temperature cools to the set temperature, the valve closes again.
Optional thermowells (sold separately) protect the sensor from pressure, shock, and corrosion in tanks and pipelines. They also isolate the contents of your process so the sensor can be removed without stopping flow or draining the system.
316 stainless steel thermowells are more corrosion resistant than brass thermowells.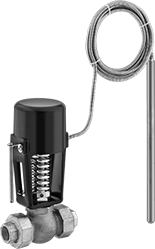 Valve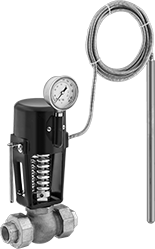 Valve with Dial Thermometer
Pipe
Size

Connection
Pipe
Size
Connection
Material

Lg.

Dia.

Max.




Pressure,


psi

End-to-End




Lg.

Lg.,




ft.

Material

O'all




Ht.

Each

Valve

Closed Until Temperature Rises

1/2

NPT Female

3/4

NPT Male
Copper
19"
1"
250
5

1/2

"
8
Copper
10"
00000000
000000000

3/4

NPT Female

3/4

NPT Male
Copper
19"
1"
90
5

1/2

"
8
Copper
10"
00000000
00000000
1

NPT Female

3/4

NPT Male
Copper
19"
1"
65
7

1/4

"
8
Copper
13"
00000000
00000000
1

NPT Female

3/4

NPT Male
Copper
19"
1"
250
7

1/4

"
8
Copper
13"
00000000
00000000
1

1/4

NPT Female

3/4

NPT Male
Copper
19"
1"
40
9"
8
Copper
13"
00000000
00000000
2

NPT Female

3/4

NPT Male
Copper
19"
1"
250
9"
8
Copper
13"
00000000
00000000

1/2

NPT Female

3/4

NPT Male
Copper
15

5/8

"
1"
250
5

1/2

"
8
Copper
10"
00000000
00000000

3/4

NPT Female

3/4

NPT Male
Copper
15

5/8

"
1"
90
5

1/2

"
8
Copper
10"
00000000
00000000
1

NPT Female

3/4

NPT Male
Copper
15

5/8

"
1"
65
7

1/4

"
8
Copper
13"
00000000
00000000
1

NPT Female

3/4

NPT Male
Copper
15

5/8

"
1"
250
7

1/4

"
8
Copper
13"
00000000
00000000
1

1/4

NPT Female

3/4

NPT Male
Copper
15

5/8

"
1"
40
9"
8
Copper
13"
00000000
00000000
2

NPT Female

3/4

NPT Male
Copper
15

5/8

"
1"
250
9"
8
Copper
13"
00000000
00000000

1/2

NPT Female

3/4

NPT Male
Copper
15

5/8

"
1"
250
5

1/2

"
8
Copper
10"
00000000
00000000

3/4

NPT Female

3/4

NPT Male
Copper
15

5/8

"
1"
90
5

1/2

"
8
Copper
10"
00000000
00000000
1

NPT Female

3/4

NPT Male
Copper
15

5/8

"
1"
65
7

1/4

"
8
Copper
13"
00000000
00000000
1

NPT Female

3/4

NPT Male
Copper
15

5/8

"
1"
250
7

1/4

"
8
Copper
13"
00000000
00000000
1

1/4

NPT Female

3/4

NPT Male
Copper
15

5/8

"
1"
40
9"
8
Copper
13"
00000000
00000000
2

NPT Female

3/4

NPT Male
Copper
15

5/8

"
1"
250
9"
8
Copper
13"
00000000
00000000

1/2

NPT Female

3/4

NPT Male
Copper
13

3/8

"

5/8

"
250
5

1/2

"
8
Copper
10"
00000000
00000000

3/4

NPT Female

3/4

NPT Male
Copper
13

3/8

"

5/8

"
90
5

1/2

"
8
Copper
10"
00000000
00000000
1

NPT Female

3/4

NPT Male
Copper
13

3/8

"

5/8

"
65
7

1/4

"
8
Copper
13"
00000000
00000000
1

NPT Female

3/4

NPT Male
Copper
13

3/8

"

5/8

"
250
7

1/4

"
8
Copper
13"
00000000
00000000
1

1/4

NPT Female

3/4

NPT Male
Copper
13

3/8

"

5/8

"
40
9"
8
Copper
13"
00000000
00000000
2

NPT Female

3/4

NPT Male
Copper
13

3/8

"

5/8

"
250
9"
8
Copper
13"
00000000
00000000

1/2

NPT Female

3/4

NPT Male
Copper
13

3/8

"

5/8

"
250
5

1/2

"
8
Copper
10"
00000000
00000000

3/4

NPT Female

3/4

NPT Male
Copper
13

3/8

"

5/8

"
90
5

1/2

"
8
Copper
10"
00000000
00000000
1

NPT Female

3/4

NPT Male
Copper
13

3/8

"

5/8

"
65
7

1/4

"
8
Copper
13"
00000000
00000000
1

NPT Female

3/4

NPT Male
Copper
13

3/8

"

5/8

"
250
7

1/4

"
8
Copper
13"
00000000
00000000
1

1/4

NPT Female

3/4

NPT Male
Copper
13

3/8

"

5/8

"
40
9"
8
Copper
13"
00000000
00000000
2

NPT Female

3/4

NPT Male
Copper
13

3/8

"

5/8

"
250
9"
8
Copper
13"
00000000
00000000

Valve with Dial Thermometer

Closed Until Temperature Rises

1/2

NPT Female

3/4

NPT Male
Copper
19"
1"
250
5

1/2

"
8
Copper
13"
00000000
00000000

3/4

NPT Female

3/4

NPT Male
Copper
19"
1"
90
5

1/2

"
8
Copper
13"
00000000
00000000
1

NPT Female

3/4

NPT Male
Copper
19"
1"
65
7

1/4

"
8
Copper
16"
00000000
00000000
1

NPT Female

3/4

NPT Male
Copper
19"
1"
250
7

1/4

"
8
Copper
16"
00000000
00000000
1

1/4

NPT Female

3/4

NPT Male
Copper
19"
1"
40
9"
8
Copper
16"
00000000
00000000
2

NPT Female

3/4

NPT Male
Copper
19"
1"
250
9"
8
Copper
16"
00000000
00000000

1/2

NPT Female

3/4

NPT Male
Copper
15

5/8

"
1"
250
5

1/2

"
8
Copper
13"
00000000
00000000

3/4

NPT Female

3/4

NPT Male
Copper
15

5/8

"
1"
90
5

1/2

"
8
Copper
13"
00000000
00000000
1

NPT Female

3/4

NPT Male
Copper
15

5/8

"
1"
65
7

1/4

"
8
Copper
16"
00000000
00000000
1

NPT Female

3/4

NPT Male
Copper
15

5/8

"
1"
250
7

1/4

"
8
Copper
16"
00000000
00000000
1

1/4

NPT Female

3/4

NPT Male
Copper
15

5/8

"
1"
40
9"
8
Copper
16"
00000000
00000000
2

NPT Female

3/4

NPT Male
Copper
15

5/8

"
1"
250
9"
8
Copper
16"
00000000
00000000

1/2

NPT Female

3/4

NPT Male
Copper
15

5/8

"
1"
250
5

1/2

"
8
Copper
13"
00000000
00000000

3/4

NPT Female

3/4

NPT Male
Copper
15

5/8

"
1"
90
5

1/2

"
8
Copper
13"
00000000
00000000
1

NPT Female

3/4

NPT Male
Copper
15

5/8

"
1"
65
7

1/4

"
8
Copper
16"
00000000
00000000
1

NPT Female

3/4

NPT Male
Copper
15

5/8

"
1"
250
7

1/4

"
8
Copper
16"
00000000
00000000
1

1/4

NPT Female

3/4

NPT Male
Copper
15

5/8

"
1"
40
9"
8
Copper
16"
00000000
00000000
2

NPT Female

3/4

NPT Male
Copper
15

5/8

"
1"
250
9"
8
Copper
16"
00000000
00000000

1/2

NPT Female

3/4

NPT Male
Copper
13

3/8

"

5/8

"
250
5

1/2

"
8
Copper
13"
00000000
00000000

3/4

NPT Female

3/4

NPT Male
Copper
13

3/8

"

5/8

"
90
5

1/2

"
8
Copper
13"
00000000
00000000
1

NPT Female

3/4

NPT Male
Copper
13

3/8

"

5/8

"
65
7

1/4

"
8
Copper
16"
00000000
00000000
1

NPT Female

3/4

NPT Male
Copper
13

3/8

"

5/8

"
250
7

1/4

"
8
Copper
16"
00000000
00000000
1

1/4

NPT Female

3/4

NPT Male
Copper
13

3/8

"

5/8

"
40
9"
8
Copper
16"
00000000
00000000
2

NPT Female

3/4

NPT Male
Copper
13

3/8

"

5/8

"
250
9"
8
Copper
16"
00000000
00000000

1/2

NPT Female

3/4

NPT Male
Copper
13

3/8

"

5/8

"
250
5

1/2

"
8
Copper
13"
00000000
00000000

3/4

NPT Female

3/4

NPT Male
Copper
13

3/8

"

5/8

"
90
5

1/2

"
8
Copper
13"
00000000
00000000
1

NPT Female

3/4

NPT Male
Copper
13

3/8

"

5/8

"
65
7

1/4

"
8
Copper
16"
00000000
00000000
1

NPT Female

3/4

NPT Male
Copper
13

3/8

"

5/8

"
250
7

1/4

"
8
Copper
16"
00000000
00000000
1

1/4

NPT Female

3/4

NPT Male
Copper
13

3/8

"

5/8

"
40
9"
8
Copper
16"
00000000
00000000
2

NPT Female

3/4

NPT Male
Copper
13

3/8

"

5/8

"
250
9"
8
Copper
16"
00000000
00000000