Traction Mats
These mats provide good traction while protecting walkways, ramps, and other high-traffic areas.
Vinyl mats resist grease, oil, and chemicals.
Rubber mats are more durable and abrasion resistant than vinyl.
Styles A-F have a textured surface for good slip resistance.
Protective Mats for Hard Floors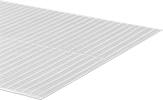 These mats have a smooth bottom for use on hard floor surfaces. They provide protection from dirt and wear as well as good traction.
Wd.

Max.




Lg.,




ft.

Thick.

Mat
Hardness
Material
Edge
Profile
For
Use
Outdoors
Color
Per


Ft.

Ribbed

27"
100
0.04"
Firm
Vinyl Plastic
Flat
No
Clear
000000000
00000
Protective Mats for Carpeted Floors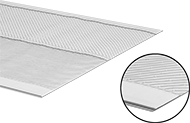 Ribbed
Gripping teeth on the bottom hold these mats in place on carpet. Use them to protect carpets from dirt and wear and provide good traction.
Social Distancing Drainage Mats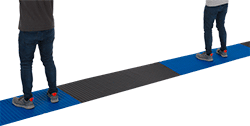 Ribbed
Ribbed
With brightly colored markings spaced six feet apart, these drainage mats guide coworkers to stand at a safe distance from each other to help prevent the spread of illness. An open-grid design lets liquid pass through beneath your feet, so puddles don't form to cause a slipping hazard. All meet ASTM testing requirements for slip resistance, even when wet. They're commonly used on long walkways, on assembly lines in large factories and warehouses, in areas where frequent washdowns take place, and outdoors. These mats come in a single roll, so they're easily laid down over long stretches or cut to length. Made of durable PVC, they're less likely to tear than floor decals and won't bunch up to create a tripping hazard. They also resist chemicals, acids, and oil, so they won't deteriorate from spills.
Single-layer mats are lighter than double-layer mats, so they're more portable. Since they have a lower profile, they're easier to roll over with carts, wheelchairs, and other wheeled equipment. They meet DIN standards for maintaining slip resistance and grip while draining oil and soapy liquids.
Width

Length,




ft.

Thickness
Mat
Hardness
Material
Edge
Profile
For
Use
Outdoors
Temperature


Range,




°F

Specifications
Met
Color
Each

Single Layer with Ribbed Surface

18"
84

1/4

"
Medium Soft
PVC Plastic
Flat
Yes
-5° to 140°
ASTM F1677, DIN 51097, DIN 51130
Black/Blue
0000000
000000000
24"
84

1/4

"
Medium Soft
PVC Plastic
Flat
Yes
-5° to 140°
ASTM F1677, DIN 51097, DIN 51130
Black/Blue
0000000
00000000
36"
84

1/4

"
Medium Soft
PVC Plastic
Flat
Yes
-5° to 140°
ASTM F1677, DIN 51097, DIN 51130
Black/Blue
0000000
00000000