Setup Blocks
Use these tight-tolerance blocks as mounting bases and supports to ensure accurate angles and spacing.
For technical drawings and 3-D models, click on a part number.
Adjustable-Angle
V-Blocks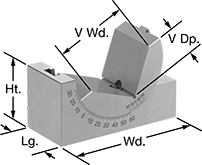 Use this block to hold workpieces at precise angles. Adjust the block to the desired angle, tighten the set screw on the bottom of the block to lock it in place, and clamp the workpiece to the block (clamps sold separately).
For

Max.


Workpiece


Dia.

Lg.

Wd.

Ht.

Accuracy
Range
of
Motion

V Angle

V Dp.

V Wd.

Squareness
Parallel
Material
Machinable
Container
Type
Each
1

3/4

"
1

3/4

"
3

3/4

"
2"
±0.003°
0°-90°
90°
1

5/32

"
1

1/8

"
0.0002"
0.0002"
Steel
No
Wood Case
0000000
0000000