Nosepieces,

Jaws,

and Replacement Parts for Blind Rivet Tools
Drill Attachments for Blind Rivets
Use your drill as a blind rivet tool. Insert the hex shaft onto a 3/8" diameter or larger drill chuck and tighten. Operate in forward direction to set rivets and in reverse to eject mandrels.
Attachment with 1,350-lb. Pull Capacity
Attachment with 2,250-lb. Pull Capacity


Stroke


Lg.

Dia.

Lg.

Lg.

Min.

Battery
Power Required
Includes
Each
1

1/8

"
1"
2

1/2

"
7"
14V
Four nosepieces (

1/8

",

5/32

",

3/16

", and

1/4

")
000000000
0000000
Chargers for Cordless Tools for Blind Rivets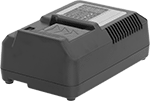 Chargers that cannot be sold to the regions listed are restricted by local energy efficiency requirements.
Replacement Parts for
Air-Powered

Hammers
Rivet Setters for
Air-Powered

Hammers

For Domed
Head Solid Rivets

For Flat
Head Solid Rivets

Button Domed Head

Round Domed Head

Universal Domed Head

Brazier Domed Head

Modified
Brazier
Domed Head

Flat Head
A rivet setter is required when using air-powered hammers to drive rivets. Choose the setter that matches the rivet's head style.
For Rivet


Dia.

Lg.

Type
Size

Lg.

Tip


Dia.

Material
Each

For Solid Rivets

Button Domed Head

— AN435

1/16

"
3

1/2

"
Round
0.401"
1

9/16

"

1/2

"
Steel
0000000
000000

3/32

"
3

1/2

"
Round
0.401"
1

9/16

"

1/2

"
Steel
0000000
00000

1/8

"
3

1/2

"
Round
0.401"
1

9/16

"

1/2

"
Steel
0000000
00000

5/32

"
3

1/2

"
Round
0.401"
1

9/16

"

1/2

"
Steel
0000000
00000

3/16

"
3

1/2

"
Round
0.401"
1

9/16

"

1/2

"
Steel
0000000
00000

1/4

"
3

1/2

"
Round
0.401"
1

9/16

"

5/8

"
Steel
0000000
00000

5/16

"
3

1/2

"
Round
0.498"
1

9/16

"

13/16

"
Steel
0000000
00000

3/8

"
3

1/2

"
Round
0.498"
1

9/16

"

7/8

"
Steel
0000000
00000

1/16

"
3

1/2

"
Round
0.401"
1

9/16

"

1/2

"
Steel
0000000
00000

3/32

"
3

1/2

"
Round
0.401"
1

9/16

"

1/2

"
Steel
0000000
00000

1/8

"
3

1/2

"
Round
0.401"
1

9/16

"

1/2

"
Steel
0000000
00000

5/32

"
3

1/2

"
Round
0.401"
1

9/16

"

1/2

"
Steel
0000000
00000

3/16

"
3

1/2

"
Round
0.401"
1

3/4

"

1/2

"
Steel
0000000
00000

1/4

"
3

1/2

"
Round
0.401"
1

3/4

"

5/8

"
Steel
0000000
00000

5/16

"
3

1/2

"
Round
0.498"
1

9/16

"

13/16

"
Steel
0000000
00000

3/8

"
3

1/2

"
Round
0.498"
1

9/16

"

7/8

"
Steel
0000000
00000

Universal Domed Head

— AN470

1/16

"
3

1/2

"
Round
0.401"
1

9/16

"

1/2

"
Steel
0000000
00000

3/32

"
3

1/2

"
Round
0.401"
1

9/16

"

1/2

"
Steel
0000000
00000

1/8

"
3

1/2

"
Round
0.401"
1

9/16

"

1/2

"
Steel
0000000
00000

5/32

"
3

1/2

"
Round
0.401"
1

9/16

"

1/2

"
Steel
0000000
00000

3/16

"
3

1/2

"
Round
0.401"
1

9/16

"

1/2

"
Steel
0000000
00000

1/4

"
3

1/2

"
Round
0.401"
1

9/16

"

5/8

"
Steel
0000000
00000

Brazier Domed Head

— AN455

3/32

"
3

1/2

"
Round
0.401"
1

9/16

"

1/2

"
Steel
0000000
00000

1/8

"
3

1/2

"
Round
0.401"
1

9/16

"

1/2

"
Steel
0000000
00000

5/32

"
3

1/2

"
Round
0.401"
1

9/16

"

1/2

"
Steel
0000000
00000

3/16

"
3

1/2

"
Round
0.401"
1

9/16

"

1/2

"
Steel
0000000
00000

1/4

"
3

1/2

"
Round
0.401"
1

9/16

"

5/8

"
Steel
0000000
00000

Modified Brazier Domed Head

— AN456

3/16

"
3

1/2

"
Round
0.401"
1

9/16

"

1/2

"
Steel
0000000
00000

1/4

"
3

1/2

"
Round
0.401"
1

9/16

"

5/8

"
Steel
0000000
00000

Flat Head

1"
2

3/4

"
Round
0.401"
1

9/16

"

5/8

"
Steel
0000000
00000