Installed
Also known as magna-grip lockbolts, these are the strongest rivets we offer. Consisting of a ribbed rivet and a collar (sold separately), they have the holding power to withstand excessive vibration, expansion, and contraction.
Installation requires access to both sides of the material and a locking collar rivet tool. The tool pulls the rivet to the collar, clinches it in place, and clips off any excess length.
For technical drawings and 3-D models, click on a part number.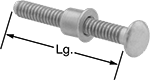 Rivet with Collar
(Sold Separately)
For
Material


Thick.

Lg.

For
Hole
Size
For
Drill
Bit Size
Head


Dia.

Head


Ht.

Shear


Strength,




lbs.

Tensile


Strength,




lbs.

Material

Pkg.




Qty.

Pkg.

Flange


Dia.

Flange


Ht.

Pkg.




Qty.

Pkg.

0.063"-0.625"
1.875"
0.203"
7/32"
0.394"
0.125"
1,700
1,400
Zinc-Plated Steel
10
000000000
00000
0.385"
0.052"
10
000000000
00000
0.313"-1.25"
2.75"
0.203"
7/32"
0.394"
0.125"
1,700
1,400
Zinc-Plated Steel
10
000000000
0000
0.385"
0.052"
10
000000000
0000
0.063"-0.625"
2"
0.265"
K
0.525"
0.152"
2,200
2,550
Zinc-Plated Steel
10
000000000
0000
0.525"
0.07"
10
000000000
0000
0.313"-1.25"
2.625"
0.265"
K
0.525"
0.152"
2,200
2,550
Zinc-Plated Steel
10
000000000
0000
0.525"
0.07"
10
000000000
0000