About
Nuts,

Materials,

and Finishes
Steel
Low-Profile

Rivet Nuts

These steel low-profile rivet nuts are about twice as strong as aluminum rivet nuts. They have a low profile for light duty fastening in low-clearance applications. A cadmium or tin-zinc plating provides corrosion resistance and adds lubricity so they collapse smoothly. The threaded portion is drawn into the sleeve when installed, creating pressure against the hole to secure the nut. Drill bit size listed in the table is for material with a 0.030"-0.090" thickness. These rivet nuts may be installed in thicker material, but may require larger holes. Install them using a hand- or power-driven rivet nut tool. Length is measured from under the flange. Installed length is the maximum length of the barrel when installed.
For technical drawings and 3-D models, click on a part number.
Wrench-Driven

Rivet Nut Tools

Use these tools to install most styles of rivet nuts. A wrench and ratchet are required to hold the tool and tighten the nut.
For technical drawings and 3-D models, click on a part number.
For Thread
Size
For Wrench
Size
For Ratchet
Size
For Rivet Nut Body Type
For Rivet
Nut Material
Each
12-24

7/8

"

11/16

"
Smooth, Ribbed, Hex, Bulbed, Sleeve
Aluminum, Steel
000000000
000000
Hand-Driven

Tools for

Low-Profile

Rivet Nuts
Turn these tools by hand to install low-profile rivet nuts. The required mandrels are sold separately. To use, thread the nut onto a mandrel of the same size, then place it into a hole, push down on the tool's T-handle, and turn clockwise.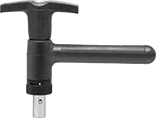 For Thread Size

For Rivet Nut
Body Type
For Rivet Nut Material
Overall


Lg.

Each
4-40, 6-32, 8-32, 10-24, 10-32, 12-24,

1/4

"-20,

1/4

"-28,

5/16

"-18,

5/16

"-24,

3/8

"-16,

3/8

"-24, M3, M4, M5, M6, M8, M10
Sleeve
18-8 Stainless Steel, Aluminum, Steel
5

7/8

"
000000000
000000