Adjustable Finger Mounts for Schunk Grippers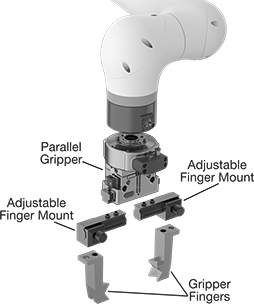 Attach these mounts to your Schunk grippers, so they can handle a wider range of part sizes and shapes. Each mount has a positioning slide that moves along a rail, which has a scale for making adjustments. Connect your fingers (not included) to the slides, position them on the rail, and tighten the knob to secure them in place. Use one mount for as many fingers as your gripper will hold.
Removable positioning slides are good for tasks that require frequent finger changes. Having additional slides on hand with fingers already attached, makes it quick and easy to retool your gripper.
Warning: Never use to lift people or items over people.
For technical drawings and 3-D models, click on a part number.

Adjustable Finger Mount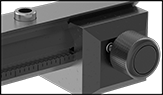 Scale
Series
Model


No.

Manufacturer


(Series/Model No.)

Rail


Lg.,


mm
Travel


Lg.,


mm
Carriage


Wd.,


mm

O'all




Ht.,


mm
Adjustment
Increments


(Lg.),

mm
Bolt Hole
Thread
Size

No.

of
Bolt
Holes
Bolt Hole
Thread
Size

No.

of
Bolt
Holes
Mounting
Fasteners
Included

Wt.

Each

Anodized Aluminum

With Nonremovable Positioning Slides

JGP
JGP-P
JGZ
PGN+
PGN+E
PGN+P
PZN+
64
Schunk (UZB 64)
63.5
33
36
36
2
M4 × 0.7 mm
2
M4 × 0.7 mm
2
No
0.24 lbs. / 0.11 kg
00000000
0000000

With Removable Positioning Slides

JGP
JGP-P
JGZ
PGN+
PGN+E
PGN+P
PZN+
80
Schunk (UZB 80)
79
44
42
39.5
2
M5 × 0.8 mm
2
M5 × 0.8 mm
2
No
0.37 lbs. / 0.17 kg
00000000
000000
JGP
JGP-P
JGZ
PGN+
PGN+E
PGN+P
PZN+
100
Schunk (UZB 100)
96.5
55
47
45.5
3
M6 × 1 mm
2
M6 × 1 mm
2
No
0.57 lbs. / 0.26 kg
00000000
000000
JGP
JGP-P
JGZ
PGN+
PGN+E
PGN+P
PZN+
125
Schunk (UZB 125)
112.75
72
52
49
3
M6 × 1 mm
2
M6 × 1 mm
2
No
0.77 lbs. / 0.35 kg
00000000
000000
Removable Positioning Slides