Robot-Ready

Configurable Grippers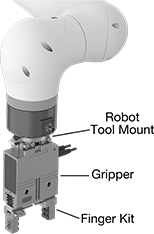 Build a complete robot gripping tool using these grippers, fingers, and robot tool mounts. They're quick to assemble, so you can test and iterate rapidly to improve their productivity and reliability. Reconfiguring them for a new job won't take long either.
For technical drawings and 3-D models, click on a part number.
Robot-Ready

Electric Vacuum Lifters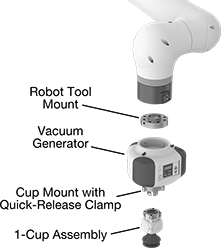 Pick up and move items using suction created by electricity—a good option when compressed air isn't available. Choose from complete kits that include everything you need to connect to your robot and start moving items, or individual components to build your own assembly and replace parts.
Warning: Never use to lift people or items over people.
For technical drawings and 3-D models, click on a part number.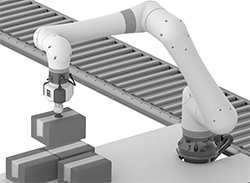 Material Handling Application

Standard Vacuum Lifter Kit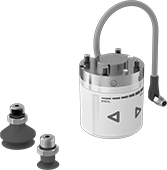 Miniature Vacuum Lifter Kit
Lifter kits include a vacuum generator, cables, and cups. Check the status of your lifter and adjust the vacuum levels right on the lifter. The integrated vacuum sensor sends information about an item's position to your controller, as well as triggers LED status indicators that show whether the arm is picking it up or releasing it. These lifters have near-field communication (NFC), so you can use a smartphone to read data, instructions, and error messages when you're near the arm. Lifters don't have pinch points or sharp edges, so you can use them on robots that will be near people. They help you meet ISO/TS 15066 international safety standards. Rated IP40, they're protected from wires and other objects 1 mm or larger. They're configured to work with specific robot arms, so choose the kit that matches your arm's manufacturer and model. Lifters for FANUC CRX arms are FANUC approved, and lifters for Universal Robots (UR) arms are UR+ certified, so they've been tested to work seamlessly. Install the included software directly into your controller to program the lifter.
Use standard vacuum lifter kits to move small- and medium-sized items with curves, angles, and varied heights. They share information with your controller using both discrete I/O and IO-link communication. Discrete I/O communication is a wired connection between the lifter and the controller, while IO-link connects to an IO-link controller, which can communicate remotely over multiple networks. This remote connection shares more data than discrete I/O, so you can monitor energy use and predict when you'll need maintenance. Swap out or change the configuration using the parts listed here.
Miniature vacuum lifter kits are smaller and lighter than standard kits, so they won't weigh down your robot arm. However, the small size means they create less suction, so they're limited to smaller, lighter items than the standard kits. They use discrete I/O to communicate directly with your controller. Note: the additional parts listed here are not compatible with these kits.
For Robot Arm
Manufacturer


(Series/Model No.)

Cap.


@
Vacuum

Max.




Vacuum,




in.

of Hg

Dia.,


mm

Ht.,


mm
Bolt
Circle


Dia.,

mm

Wt.

For
Surface
Type
For
Use
With
Cup


Dia.,


mm
Cup


Ht.,


mm
For
Surface
Type
For
Use
With
Cup


Dia.,


mm
Cup


Ht.,


mm
Each

Standard Vacuum Lifter Kits with LED

Display—

Schmalz ECBPi Series

8-Pole

Micro M12

Plug—

24V DC

Doosan
(M0609, M0617, M1013,
M1509)
22 lbs. @

17 in. of Hg

17
151.5
188.8
__
2.6 lbs./

1.18 kg

Curved

Flat

Cardboard
42
15
Angled
Cardboard
42
30
0000000
000000000
FANUC
(CR 4ia, 7ia;
LR Mate)
22 lbs. @

17 in. of Hg

17
151.5
188.8
__
2.8 lbs./

1.27 kg

Curved

Flat

Cardboard
42
15
Angled
Cardboard
42
30
0000000
00000000
FANUC
(CRX 10iA, 10iA/L)
22 lbs. @

17 in. of Hg

17
151.5
188.8
__
2.6 lbs./

1.18 kg

Curved

Flat

Cardboard
42
15
Angled
Cardboard
42
30
0000000
00000000
KUKA Robotics
(iiwa 7, 14)
22 lbs. @

17 in. of Hg

17
151.5
188.8
__
2.6 lbs./

1.18 kg

Curved

Flat

Cardboard
42
15
Angled
Cardboard
42
30
0000000
00000000
Omron
(TM 5, 12, 14)
22 lbs. @

17 in. of Hg

17
151.5
202.6
__
2.9 lbs./

1.32 kg

Curved

Flat

Cardboard
42
15
Angled
Cardboard
42
30
0000000
00000000
Techman
(TM5 700, 900)
22 lbs. @

17 in. of Hg

17
151.5
202.6
__
2.9 lbs./

1.32 kg

Curved

Flat

Cardboard
42
15
Angled
Cardboard
42
30
0000000
00000000
Universal Robots
(UR3; UR3e;
UR5; UR5e;
UR10; UR10e;
UR16; UR16e)
22 lbs. @

17 in. of Hg

17
151.5
188.8
__
2.6 lbs./

1.18 kg

Curved

Flat

Cardboard
42
15
Angled
Cardboard
42
30
0000000
00000000
Yaskawa/Motoman
(HC10DT)
22 lbs. @

17 in. of Hg

17
151.5
205.2
__
3 lbs./

1.36 kg

Curved

Flat

Cardboard
42
15
Angled
Cardboard
42
30
0000000
00000000

Miniature Vacuum Lifter Kits with LED Scale

Display—

Schmalz ECBPM Series

FANUC
(CRX 10iA, 10iA/L)
4.4 lbs. @

17 in. of Hg

17
63
112.4
50
1.1 lbs./

0.5 kg

Flat
Plastic
20
12.8
Angled
Cardboard
32
23
0000000
00000000
Omron
(TM5 700, 900)
4.4 lbs. @

17 in. of Hg

17
63
112.4
50
1.1 lbs./

0.5 kg

Flat
Plastic
20
12.8
Angled
Cardboard
32
23
0000000
00000000
Techman
(TM5 700, 900)
4.4 lbs. @

17 in. of Hg

17
63
112.4
50
1.1 lbs./

0.5 kg

Flat
Plastic
20
12.8
Angled
Cardboard
32
23
0000000
00000000
Universal Robots
(UR3; UR3e;
UR5; UR5e)
4.4 lbs. @

17 in. of Hg

17
63
112.4
50
1.1 lbs./

0.5 kg

Flat
Plastic
20
12.8
Angled
Cardboard
32
23
0000000
00000000
Universal Robots
(UR10; UR10e;
UR16; UR16e)
4.4 lbs. @

17 in. of Hg

17
63
112.4
50
1.1 lbs./

0.5 kg

Flat
Plastic
20
12.8
Angled
Cardboard
32
23
0000000
00000000