Robot-Ready

Electric Vacuum Lifters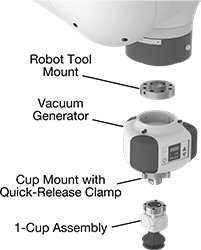 Pick up and move items using suction created by electricity—a good option when compressed air isn't available. Choose from complete kits that include everything you need to connect to your robot and start moving items, or individual components to build your own assembly and replace parts.
Warning: Never use to lift people or items over people.
For technical drawings and 3-D models, click on a part number.
Robot-Ready

Vacuum Lifters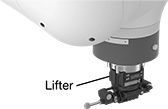 With robot tool mounts and connectors, these vacuum lifters come ready to attach to robot arms with standard ISO mounting hole patterns. Use them with compressed air to grip, lift, and move items with curves, angles, and varied heights. Also known as venturi devices, they generate suction without an installed vacuum system.
Lifters and lifters with cups have two arms with vacuum cup connections. You can adjust the width of the arms to handle large items as well as tilt them to better grip uneven shapes. You can even remove an arm for applications that require only one cup. All of these lifters have a digital display for viewing the status of the lifter and controlling the vacuum. They're protected from dust and water splashes. Lifters don't include cups. Add vacuum cups that meet your specific needs. Lifters with cups include eight silicone and polyurethane rubber cups with different sizes and number of bellows. Cups with more bellows are better for handling items that have more variations in shape.
Lifters with a foam pad have an EPDM foam pad that's soft enough to conform to items without damaging them. They're best for delicate surfaces as well as porous surfaces where cups cannot obtain an airtight grip. They are not protected from dust and water splashes. Those with a sensor communicate the grip position of your lifter to a controller. They have LED status indicators, so you can quickly see the status of the lifters.
Lifters with PNP signal output communicate proximity with a positive signal, while those with NPN signal output send a negative signal.
UR+ certified lifters have been tested and approved to work seamlessly with Universal Robots (UR) arms. Plug the included software directly into your teach pendant to program the lifter.
Choose lifters with an additional port if you'd like to add a pressure transmitter (not included). Your transmitter will convert air pressure to an electrical signal for viewing air measurements on remote displays and programmable logic controllers (PLCs).
Optional sensors can be added to lifters with a foam pad for communicating the grip position to a controller. They require an A-code micro M12 power cord (sold separately).
Warning: Never use to lift people or items over people.
For technical drawings and 3-D models, click on a part number.