Robot Vacuum Cup Mounts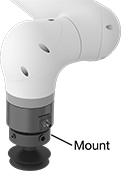 Attach threaded vacuum cups to robot arms with different ISO mounting patterns. These mounts have a universal thread for attaching your vacuum cups as well as inlet ports to connect air-powered vacuum pumps, so you can perform a variety of pick-and-place tasks. Use the 6-mm inlet port to move light objects or when working in tight spaces. Use the 10-mm inlet port to move heavy or porous objects, such as corrugated cartons. Made of acetal plastic, these mounts are strong, but lightweight, and stand up to moisture and chemicals. They include the hardware you need to connect them to robot arms. If you don't see your robot model number listed, measure the bolt circle diameter to determine mounting compatibility.
To preserve vacuum pressure, insert a 6-mm or 10-mm plug into the end of whichever inlet port you are not using.
Universal thread adapters let you join mounts and vacuum cups with different thread types.
Warning: Never use to lift people or items over people.
For technical drawings and 3-D models, click on a part number.