Robot-Arm-Mounted

Electric Vacuum Pumps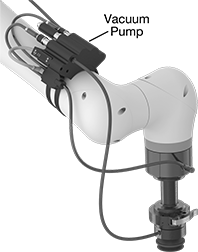 Generate the suction you need to power end-of-arm tools, such as vacuum cups and grippers, without using an installed vacuum system. These pumps, also known as venturi devices, connect to any compressed air source and come with all the electrical connections you need to start lifting or moving objects. They're curved and have a foam mounting pad that fits collaborative robot arms. Use the hook-and-loop straps to secure them in place—close to your tools, but out of the way.
These pumps have a vacuum switch that uses analog and PNP digital feedback to send information about the pump's vacuum level to your controller. The switch has an LED display that shows the vacuum setting and status. Push buttons on the pump let you set and change the vacuum setting. An integrated solenoid valve controls the air flow to your tools.
Vacuum pumps with a discharge tube have an additional integrated solenoid valve that creates a burst of air for removing parts that may not drop when the air flow stops, such as those with adhesive on them.
Vacuum pumps with 90° elbow M8 plug will work with FANUC CRX and Universal Robots models. They include a USB flash drive with software for Universal Robots, called URCap, that plugs into your teach pendant to program the pump.
For technical drawings and 3-D models, click on a part number.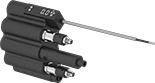 Vacuum Pump with Wire Leads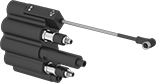 Vacuum Pump with
90°
Elbow M8 Plug
Vacuum


Connection,


Push to Connect

Max.


Vacuum

Max.


Flow


Rate,

cfm
Operating


Pressure,


psi

Temp.




Range,




°F

Volume,


dBA

Current,


A
Tube


OD,


mm
Gender
Tube


OD,


mm
Gender

Lg.

Ht.

For Robot Arm
Manufacturer


(Series/Model No.)

Each

With Wire Leads

27 in. of Hg @ 72° F
5
120
0° to 120°
70
0.2
6
Female
6
Female
4

3/8

"
5

5/8

"
__
0000000
0000000
27 in. of Hg @ 72° F
5
120
0° to 120°
70
0.2
6
Female
6
Female
4

3/8

"
5

5/8

"
FANUC (CRX 10iA, 10iA/L)
Universal Robots (UR3; UR3e;
UR5; UR5e; UR10; UR10e;
UR16; UR16e)
0000000
000000
Vacuum Pumps with Discharge Tube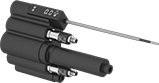 Vacuum Pump with Discharge Tube and Wire Leads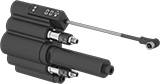 Vacuum Pump with Discharge Tube and
90°
Elbow M8 Plug
Discharge,


Push to
Connect

Vacuum


Connection,


Push to Connect

Max.


Vacuum

Max.


Flow


Rate,

cfm
Operating


Pressure,


psi

Temp.




Range,




°F

Volume,


dBA

Current,


A
Tube


OD,


mm
Gender
Tube


OD,


mm
Gender
Tube


OD,


mm
Gender

Lg.

Ht.

For Robot Arm
Manufacturer


(Series/Model No.)

Each

With Wire Leads

18 in. of Hg @ 72° F
5
120
0° to 120°
74
0.2
6
Female
6
Female
10
Female
4

3/8

"
7"
__
0000000
0000000
18 in. of Hg @ 72° F
5
120
0° to 120°
74
0.2
6
Female
6
Female
10
Female
4

3/8

"
7"
FANUC (CRX 10iA, 10iA/L)
Universal Robots (UR3; UR3e;
UR5; UR5e; UR10; UR10e;
UR16; UR16e)
0000000
000000